News
Can outdoor play structure help kids gain self-confidence?
As a rather respectable place in human society, outdoor play structures are playing the role that is no worse than school, especially for those younger children. Children in outdoor play structure are taught about not only how to get along with other kids, but are also be given the opportunity to built in their own self-confidence. When they are trying these devices, their achievement will bring them a feeling of pride and success, children will never feel they are too young to finish any tasks. At home, children are well prepared with everything they want to get, but some children are under pressure with all the material given by the adult. And the outdoor play structure is the only place that they can escape from feeling shamed and all they need to do is to play and have fun. And being happy, as far as I'm concerned, is the best way to build up self-confidence.
For one thing, it is the most fundamental task for and outdoor play structure to make kids feel proud of what they have down. Something seems to be impossible to finish before they take a try turned to be simple and realizable. Different from those tasks given by their parents or teachers, here in the outdoor play structure, kids of all ages and all characters can do something that makes them feel successful. This, I believe, is the first step to build up children's self-confidence. It is common problem of children who seldom go to the outside world that they have difficulty making friends. While a good friend, as a matter of fact, plays a critical role in helping another kid to shape his character. If kid can find a true friend in the outdoor play structure, the benefit he will gain is indefinite.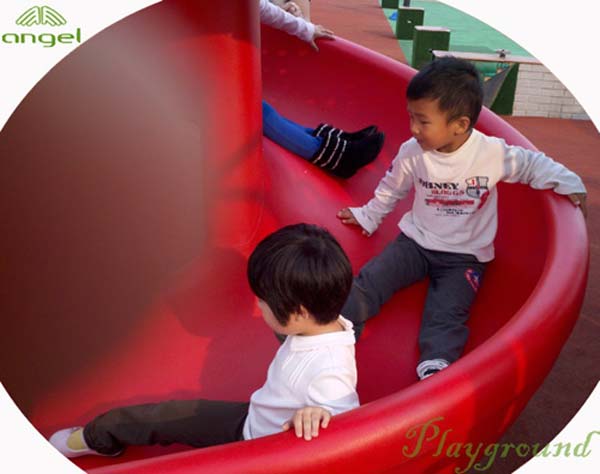 For another, working stuff in outdoor play structure will train children to be self-confident. A qualified working stuff is one who acts as an emotional leader. He possesses the ability to offer the most favorable mental guidance for the children. Needless to say, any successful individual must be confident enough so as to embrace challenges and overcome them with a strong will. Self-confidence is closely associated with self-esteem and self-assured was in one's individual abilities and qualities. Such a favorable spiritual condition is irreplaceable critical during the struggle for success. Students are at an age when concepts and minds could be easily affected by others, especially people around him. Therefore, whenever a kid has done a good job in the process of playing, the working stuff should be with him and give him encouragement consistently.
As a matter of fact, an indoor play structure working stuff has gone far beyond his teaching children about some special skills. They are producing influence in many other aspects. For instance, by presenting mature and enlightening outlook on life and a different world. Children are led to adopt correct and positive values. And this, I think, is the second but the most significant path to gain self-confidence.