Fancy Series
Product name: china playground equipment
Model:HP-Y1502
Size (CM):990x810x530
Size (FT):32.5x26.6x17.4
Size:990x810x530
Price (FOB): 

$7255.00

Product name: HP-Y1502
Specification (cm): 990x810x530
Components:
Roof, Slide, plastic tube, net tube, theme panel, square steel deck, steel post, climbing board, stair, bridge and screw etc...
Material:
a. Plastic component: LLDPE (Linear Low Density Polyethylene)
b.Metal component: Galvanized steel pipe
c. Post: galvanized steel pipe with normal thickness 2.0mm
d. Deck, stair: Steel plate, plastic powder coated or PVC coated;
e. Fasteners: SS304
Advantages:
1), Food grade plastic used for our toys. With wide color range available.
2). With EU standard EN1176 GS safety certificate
3). Experienced toy manufacturer which supply toys to world wide customers for 21 years.
Falling Height (cm): 240
User age 3-12 years
Apply for:
Preschool, residential play area, Amusement park, kindergarten, shopping mall, restaurant, backyard
Package:
Steel components: Cotton fabric and PP film.
Plastic parts: Bubble bag and PP film;
HS code: 9506900
Warranty Period:
5 years for plastic parts, steel posts,metal decks and stairs; 3 years for steel component.
Notice: Now design according customer play area available!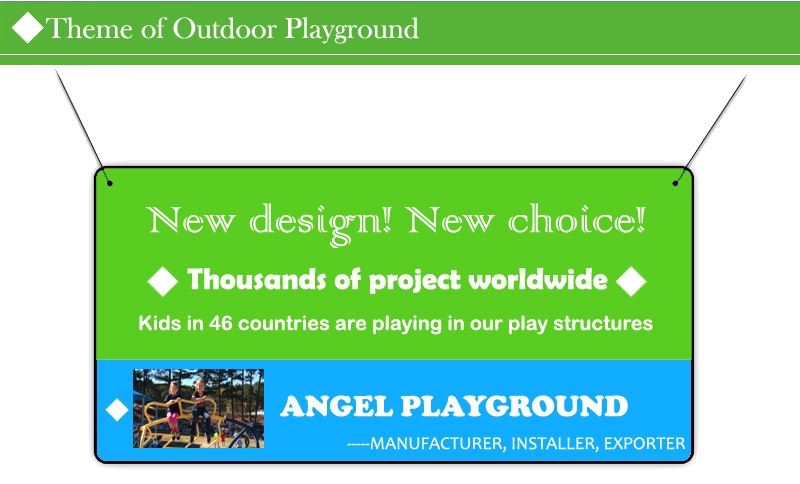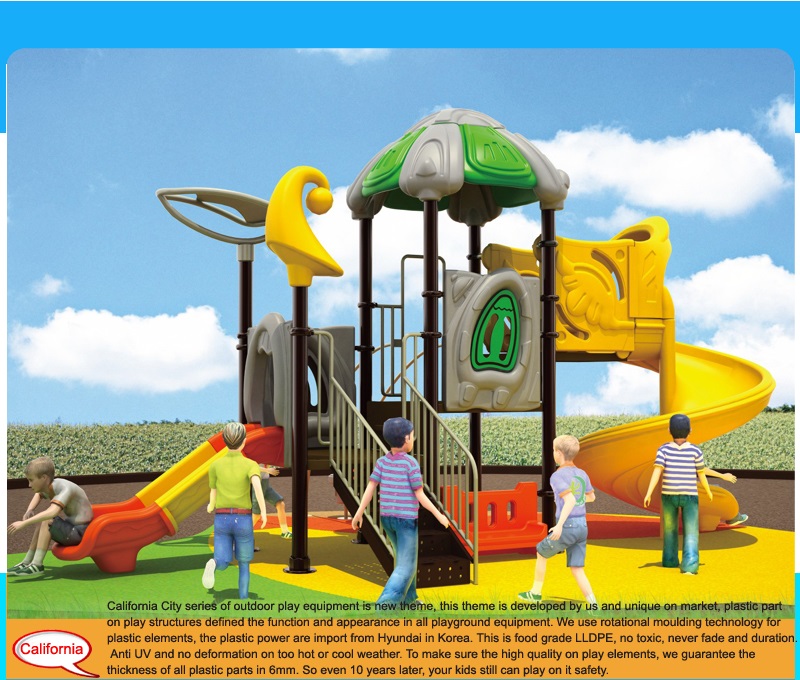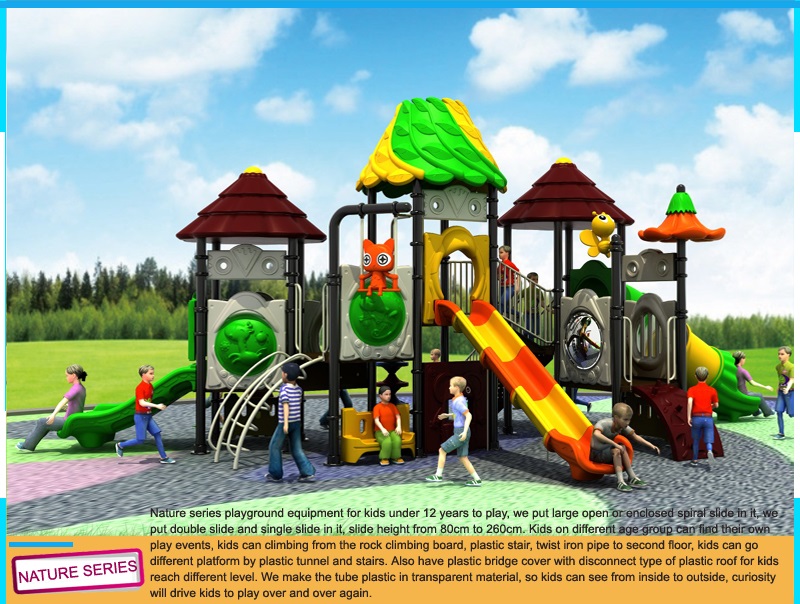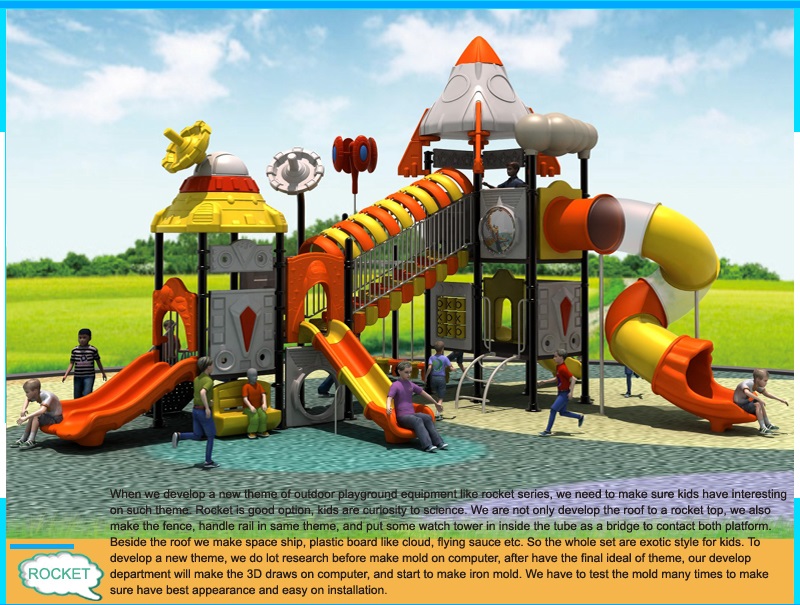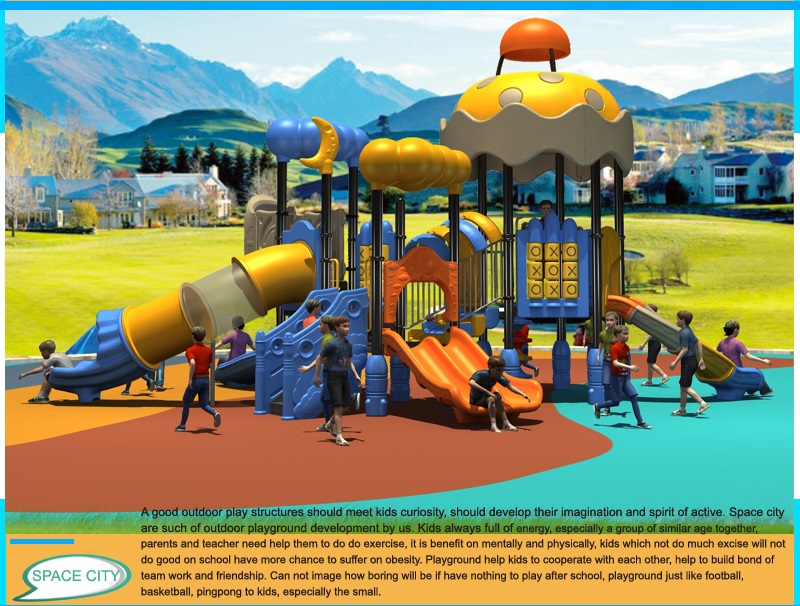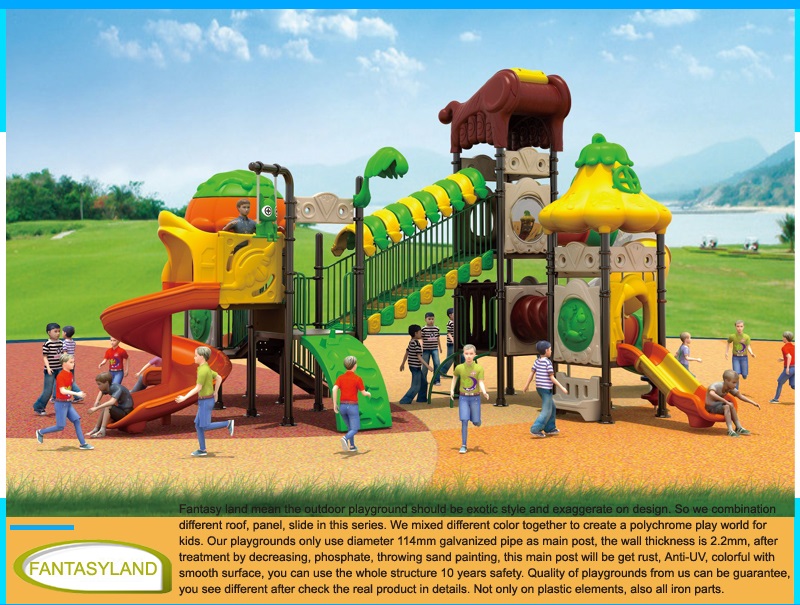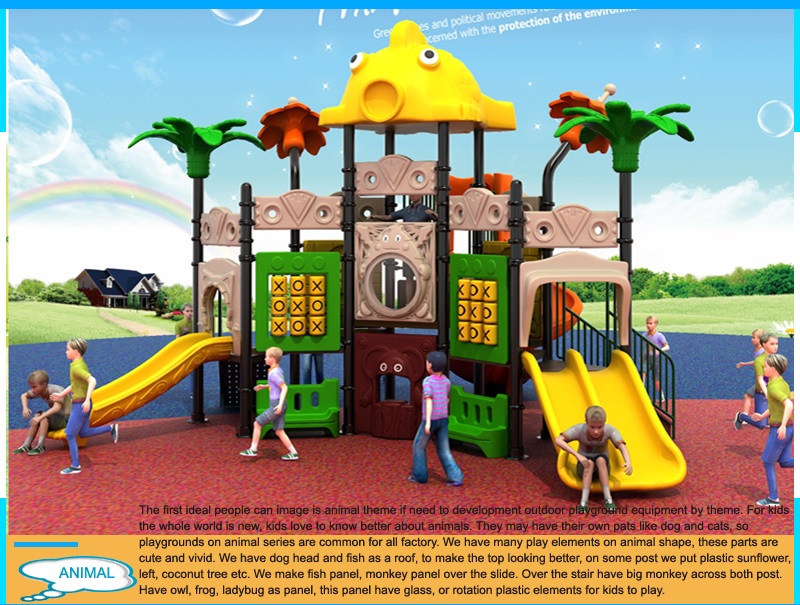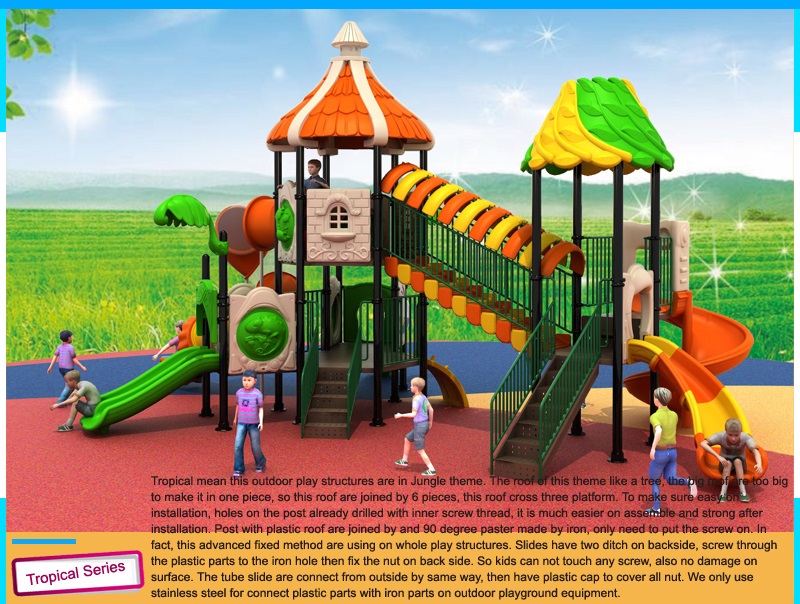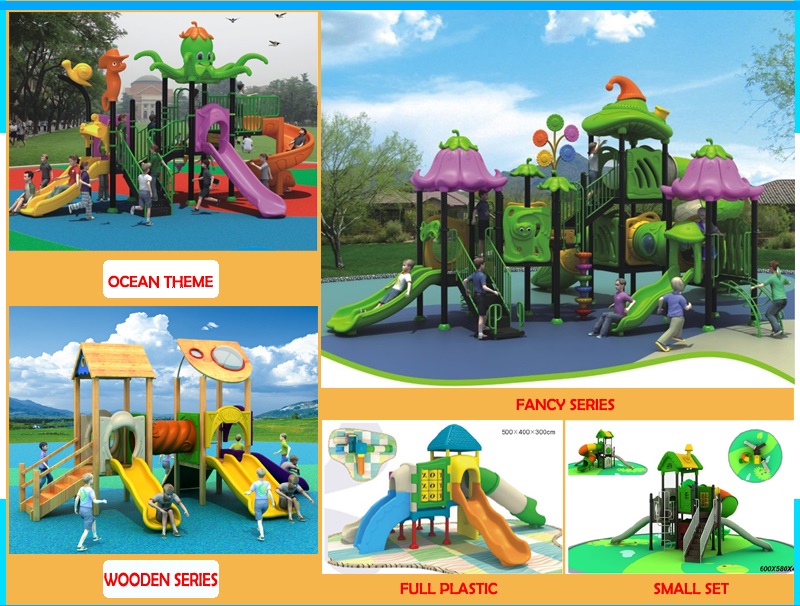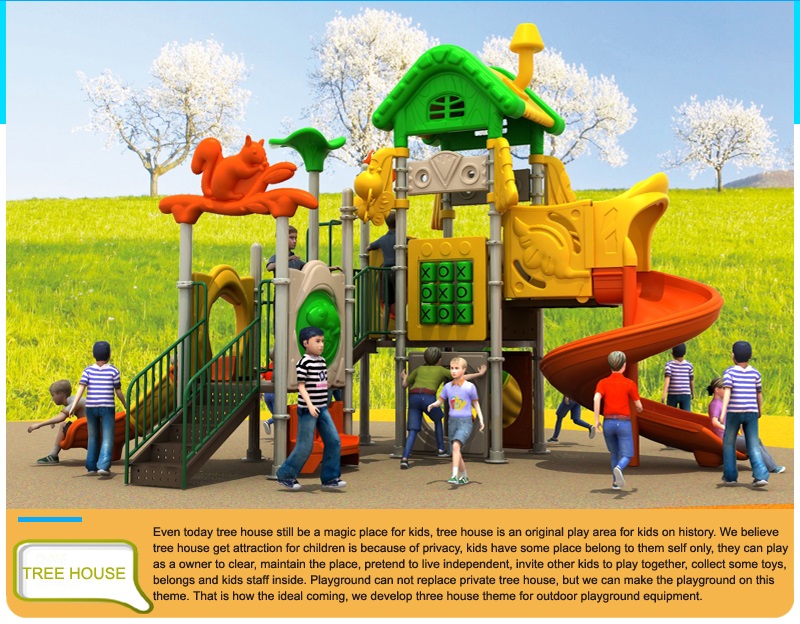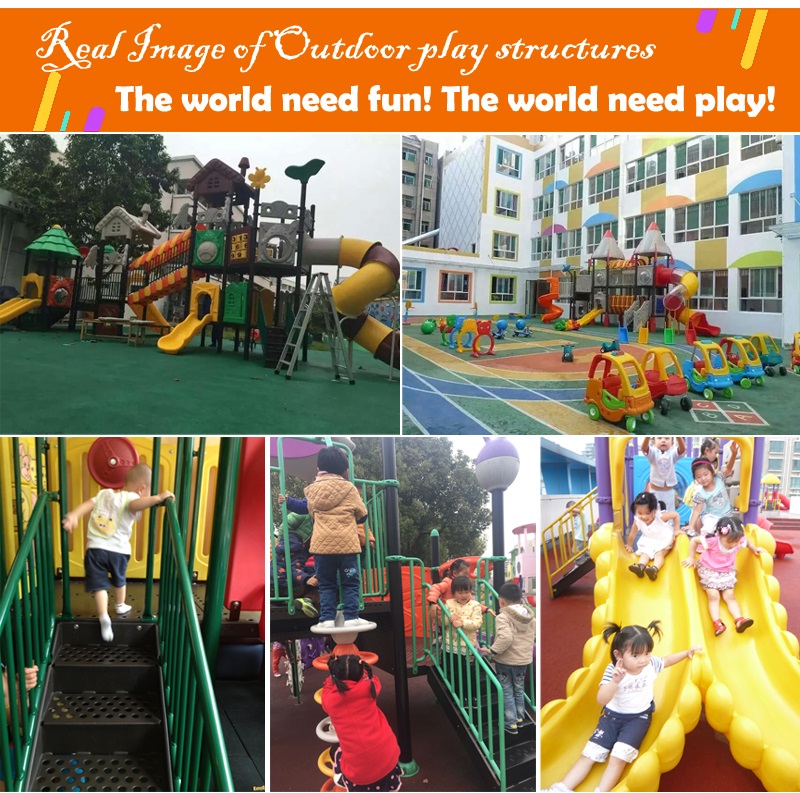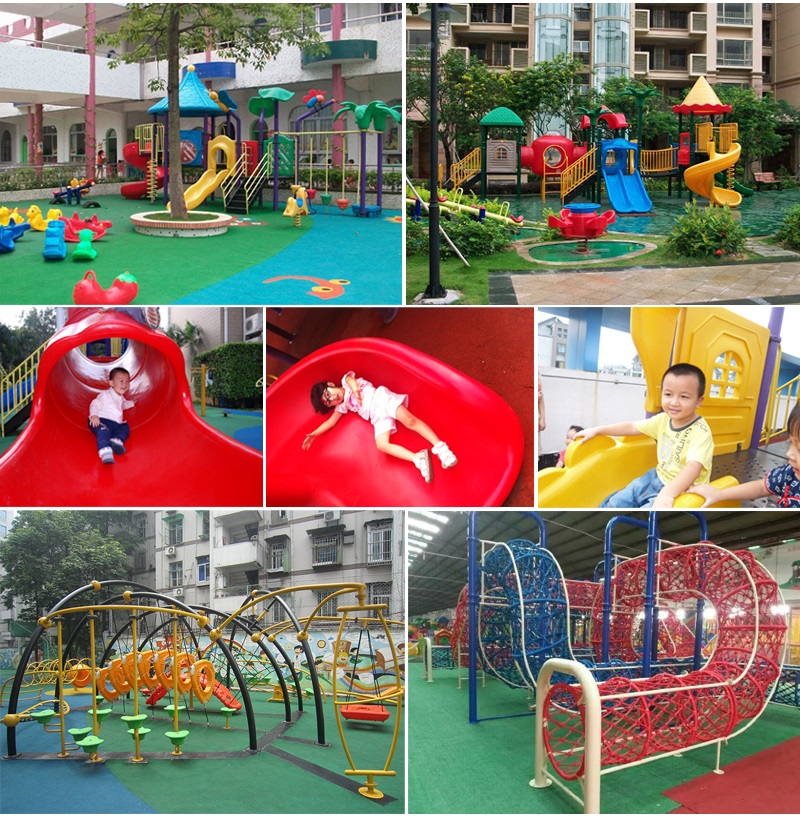 Activities in outdoor playground Should Be in Various Forms

Today in such a changing society it should be impossible to have an outdoor playground that failed to reflect such a tendency of change. Living in a changing environment effects and changes what each individual wants to try. People show great passion of trying new things that cater for the development of our society or satisfy their curiosity and need. Exercises, is no doubt one thing that is at the height of people's inclination. As their life become well, they'll spare more time to pursue things rather than their work, like the health of their body, the feeling of their inner heart and so on. So activities must be changed to be in a various form to satisfy people's need.

To begin with, gyms of various kinds are being set up in an increasing speed to cater for people's aggravating need in exercise. Both men and women, started to pay more attention in their health instead of getting indulged in endless work. We can also learn the phenomenon from the TV shows that many stars have shifted their purpose of losing weight and stay slim to the purpose of being health and got some muscles to make themselves more appealing. If outdoor playgrounds want to defeat other gyms to make itself an attraction to people, they have a very hard and long way to go. Hence it is not only a necessity but also an urgency to change.

What's more, instead of being specialized in one aspect, people would prefer to be provided with more options in choosing an activity they like and using the equipment that makes them feel comfortable. Trampoline park, as we can learn from its name, seems to be somewhere that only provides people with simple equipment, with which people can do nothing but to do some simple sports. There is no doubt that it cannot win in the competition with other gyms that provide people with much more diverse and professional training. Outdoor playground is in need of change to make it better.

What's more, as the process of a outdoor playground make it a place composed with many other activities except for the sport of only jumping on the bed, it Should never be forgot that as a outdoor playground, it will always be his destiny to strengthen its advantage in playing its original and main role in training people to make use a outdoor playground equipment.

Finally, we are all in need of an outdoor playground with a variety of activities for us to enjoy ourselves and have fun.