Fantasyland Series
Product name: backyard playground equipment company
Model:HP-F1502
Size (CM):1000x700x440
Size (FT):32.8x23x14.4
Size:1000x700x440
Price (FOB): 

$7200.00

| | |
| --- | --- |
| | Welcome to Angel playground-outdoor playground equipment |
| Names | HP-F1502 |
| specification | 1000x700x440 |
| Parts | Slide,screw,tunnel,roof,slide, bridge,deck,platform,stair, swing, hanging parts |
| Capacity | 50m2 about 10- 30 children |
| Frame | Diameter 114mm galvanized pipe (thickness 2mm) |
| Plastic | Import LLDPE (thickness 6mm) |
| HS code | 95069900 |
| Safety Mat | Rubber mat with thickness from 2cm to 5cm |
| Assemble | 3D Installation diagram with real photo |
| Leading time | 12 days, |
| Certificate | ISO, TUV - EN1176, CE etc... |
| Advantage | Best service and high quality, We solve problem not avoid trouble any time during order! |
| User Ages | 3-12 Years old kids |
| Package | Standard export package |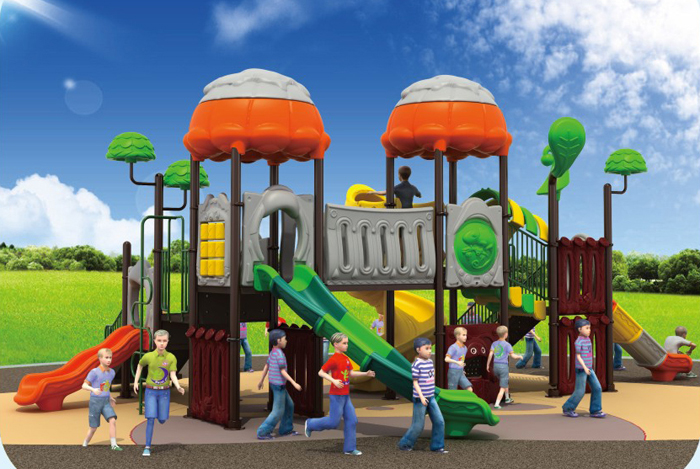 Top View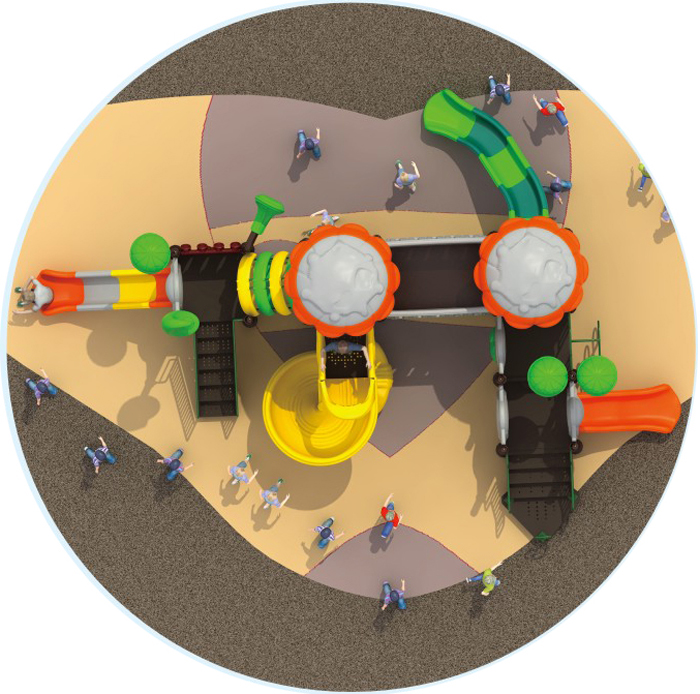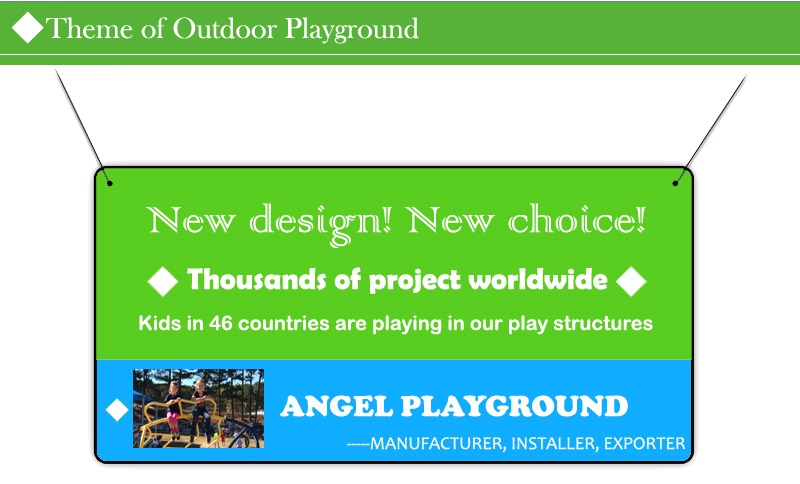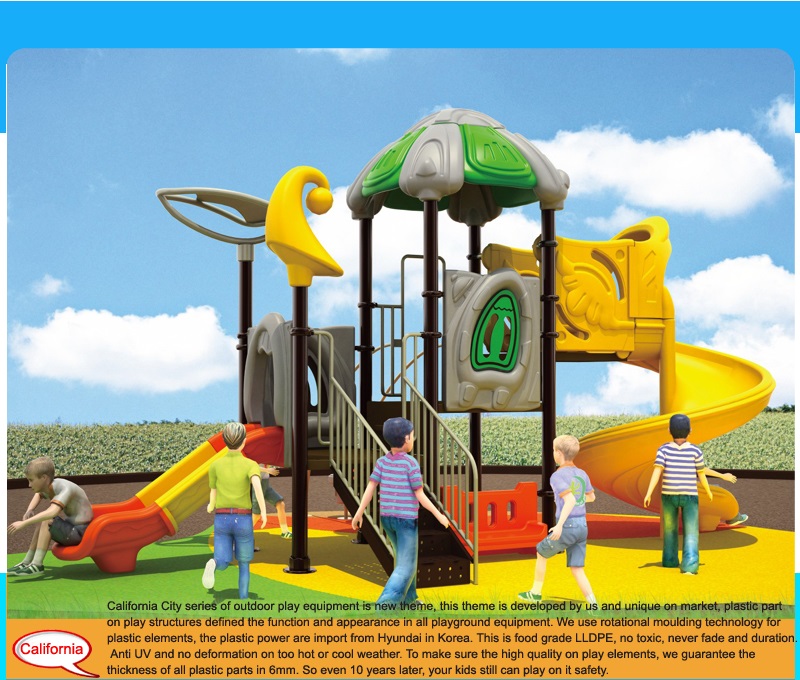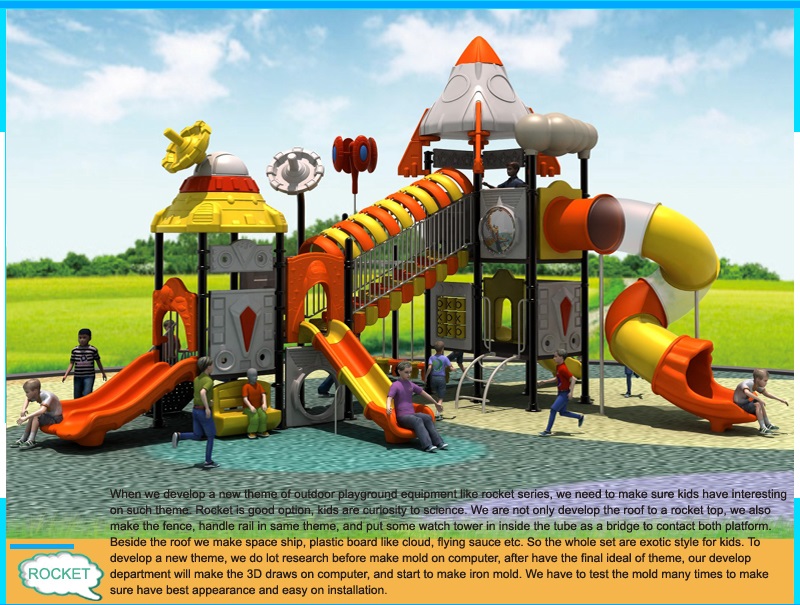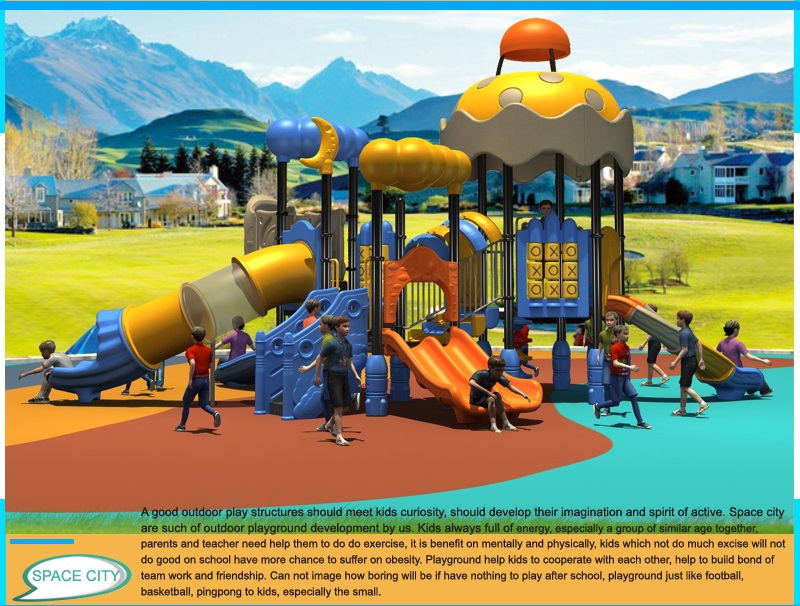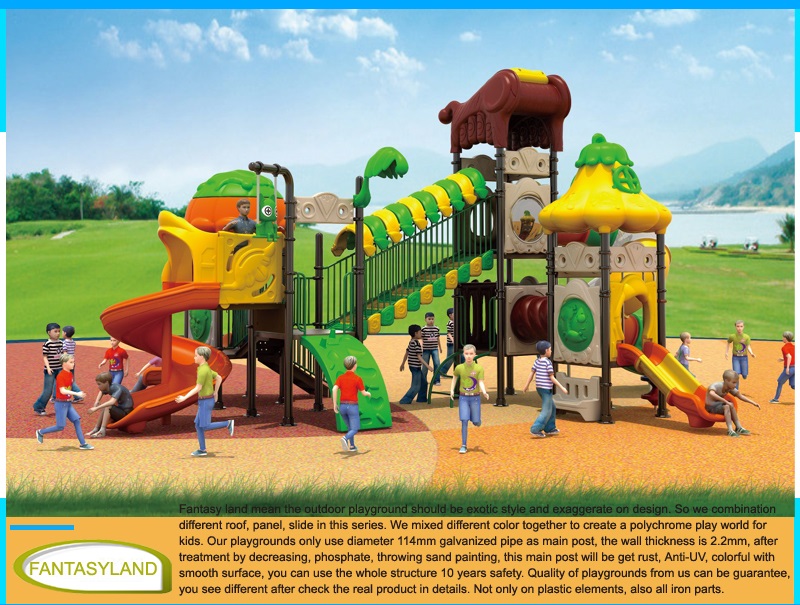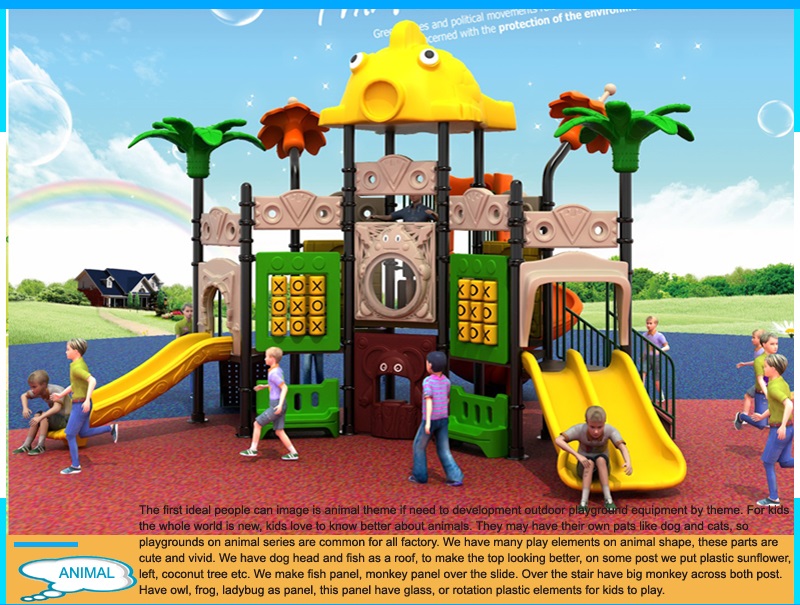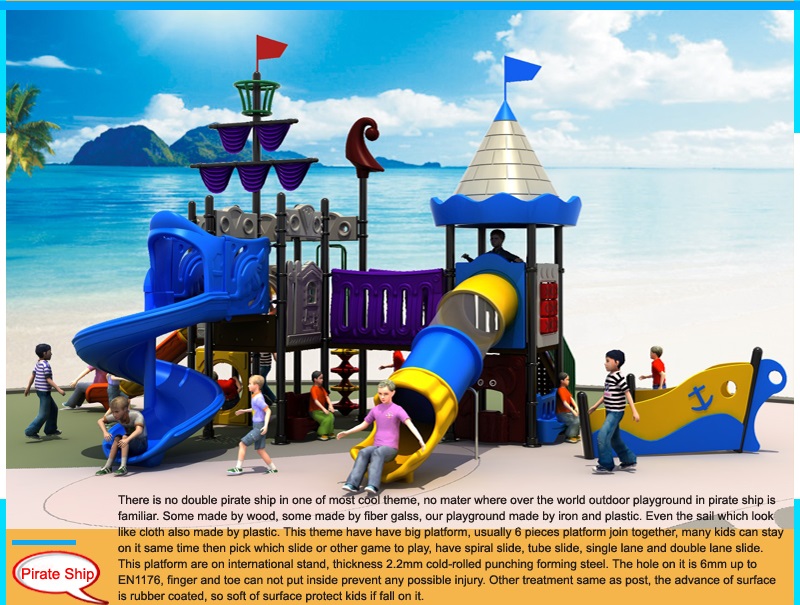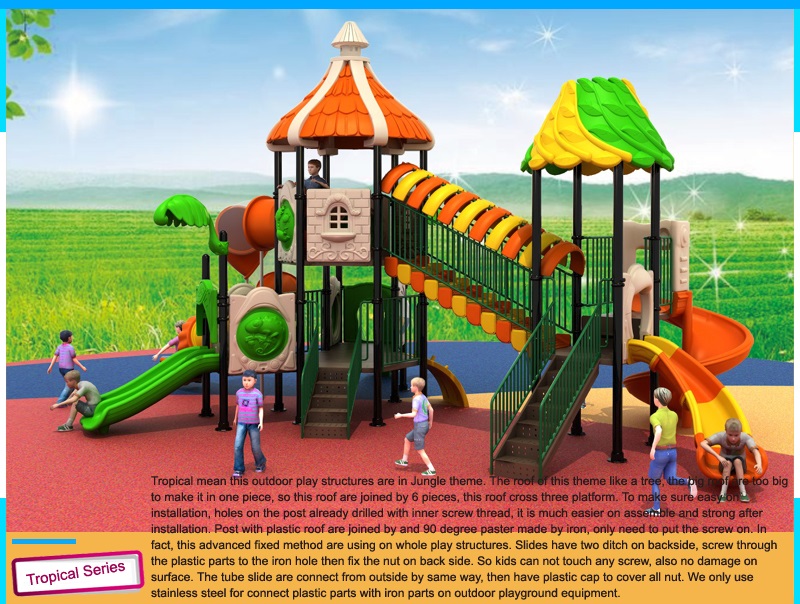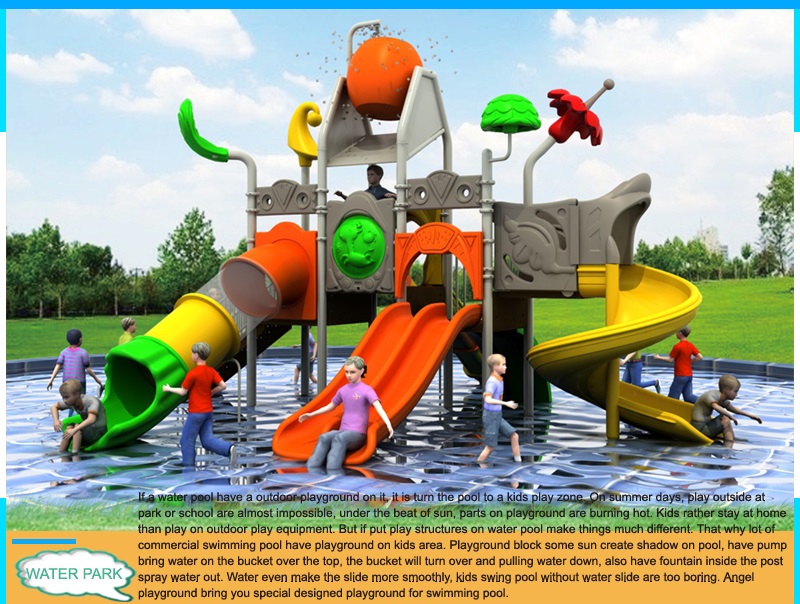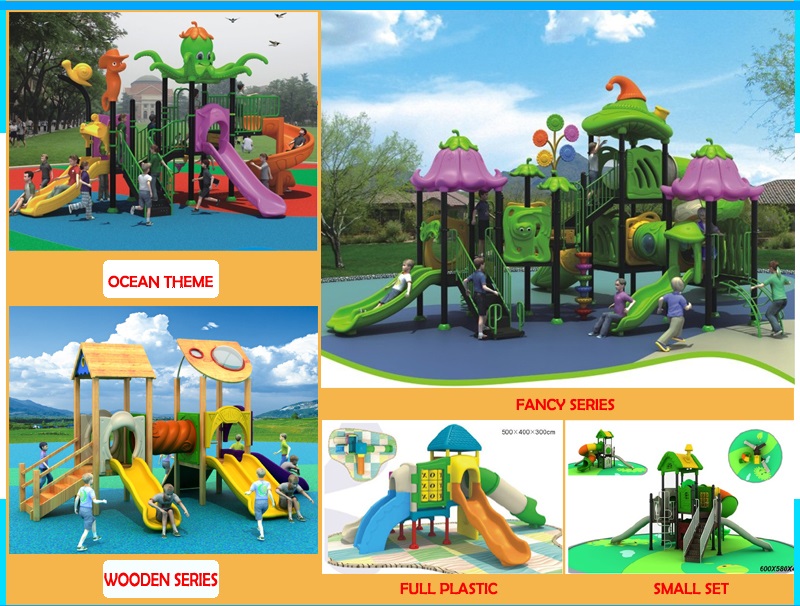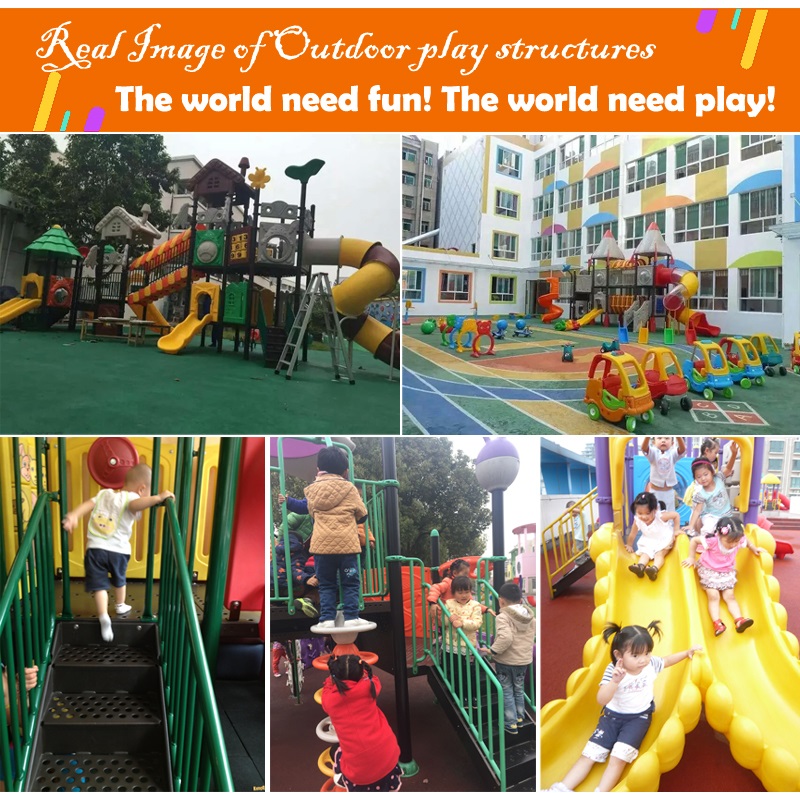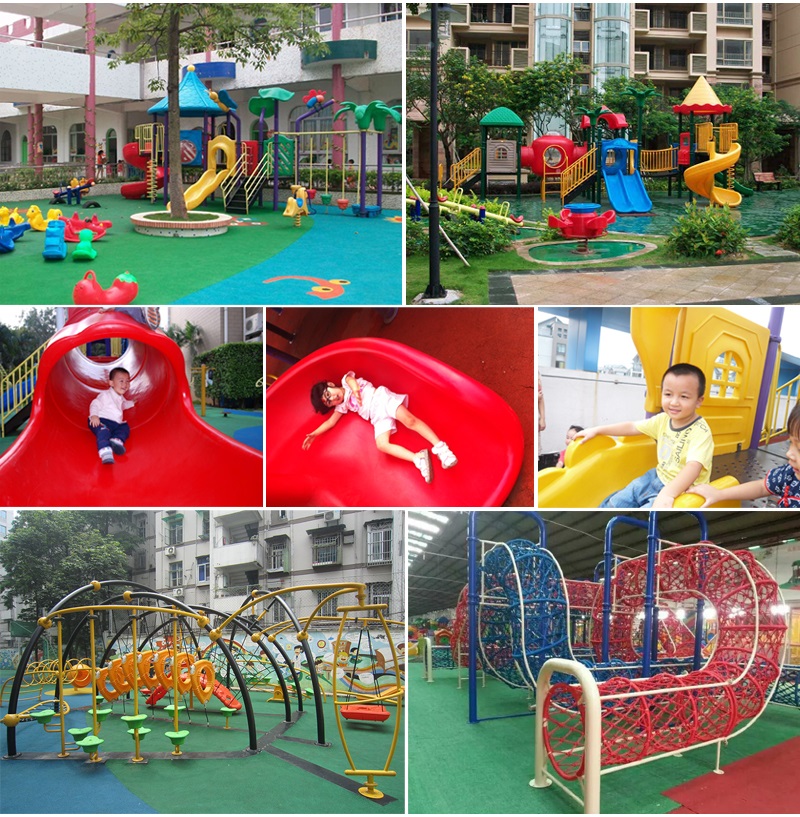 Outdoor Play Structures Helps to Cultivate Effective Leaders among Children
Inside a group, the leader is often given the priority to make the most important decisions. Everyone is supposed to obey his orders all the time. Actually, the art of leadership involves a serious of complicated elements that are by no means easy to manipulate. And outstanding leader should master some leading master some essential leading techniques and understand the basic theories in psychology. Therefore the basic way to have them realize the importance to acquire the skill of leading is by getting them involved in groups, such as classes, outdoor play structures and so on. Outdoor playground is actually a more challenging place for children to lead the group.
To begin with, the sense of being valued gives everyone the impetus to strive for a better result. So do kids. In outdoor playground activities, kids who enjoy the sense of leading can always distinguish him by giving others the impression of smart and courageous. These characters equip them with more chances to be pointed out as the leader to the whole group. And this will be an effective stimulus that motivates them to work more diligent to improve their individual value in the future. Meanwhile, they might also feel freer to contribute their constructive thoughts and suggestions to the group.
Besides, outdoor play structures groups are loose and hard to control. It's unlikely that kids will follow the words of teachers, parents, or babysitters. Let alone the directions given by their peers. Therefore, it is very challenging task for kids to finish. However, the more challenging a work is, the more helpful it will be to facilitate children's ability of working as a leader as they grow up. Children are not only rewarded with the sense of overbearing, but will also help them to be aware of the importance of unity and wholehearted devotion from the whole team.
What's more, it is necessary to make your kids pay attention to the importance of the leadership since they were young, even if they are playing in the outdoor play structures, because it is a very efficient way to cultivate their character of critical thinking. A leader's job has to be done with carefulness and intelligence. Children who think critically will be equipped with better capability to adapt to their surrounding than those who don't have any experience in leading groups.
In a word, it is unwise for parents who wish to have docile kids listening to their words and other people's words all the time. On the contrary, you'll get a more talented kid by giving them more free time in the outdoor play structures. The benefits children get from outdoor playground will never be worse than what they received from your experience.