Animal Series
Product name: park playground equipment
Model:HP-G1504
Size (CM):1040x630x390
Size (FT):34.1x20.7x12.8
Size:1040x630x390
Price (FOB): 

$5110.00

Welcome to Angel playground

Code: HP-G1504

Size: 1040x630x390

Material

Pipe

a)Diameter: 114mm. thickness:2 mm

b)Material: -Standard steel/Galvanized steel.

Plastic

Imported south Korea LLDPE plastic,galvanized steel,steel,powder etc

Handler and others

With Diameter-60mm, Diameter-32mm, Diameter-25 mm, thickness of 2.2 mm

steel.

Fastener:SS304

Package

wrapped by cotton wool and PP film

HS code

95069900

Characteristics

User for

3-12 years old

Children capacity

10-20 children for 50m2

Apply for

Park and School use

Function

Kids play

Features

Nice color and safe,various designs can be made according to playground size

Advantages

Anti-UV,anti-fade,anti-crack,nontoxic

Environment protection

Components

Plastic slide tube, plastic long slide,twin slide, climbing,steps,animal etc

advantage

Best service and price offered.

Certificate

ISO9001 ,CE ,TUV ,EN1176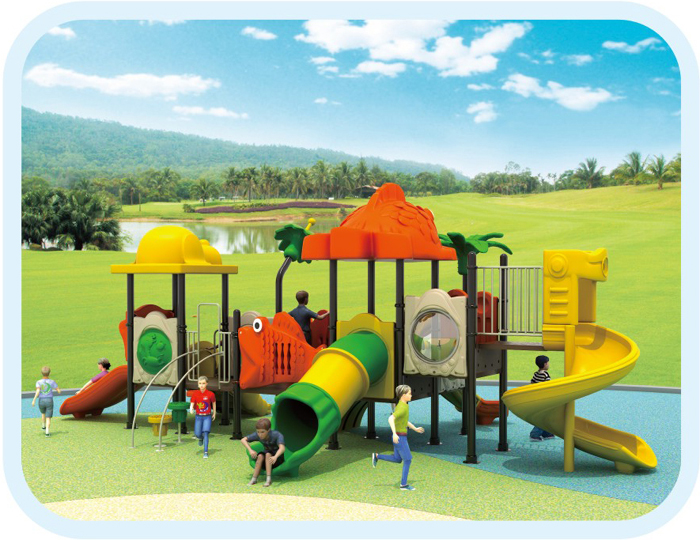 Top view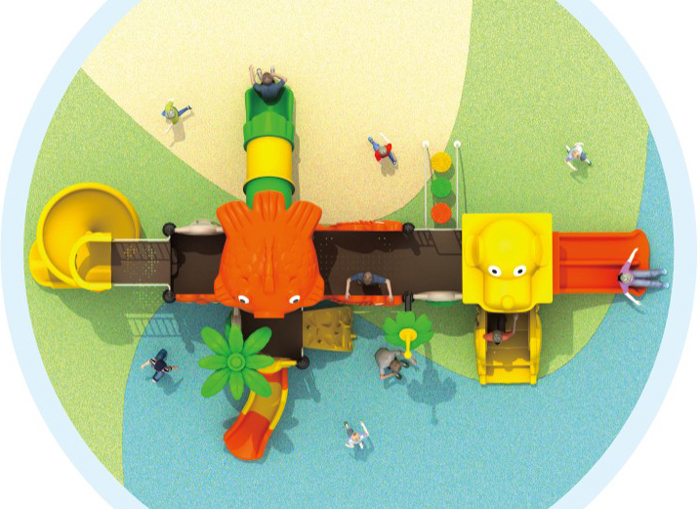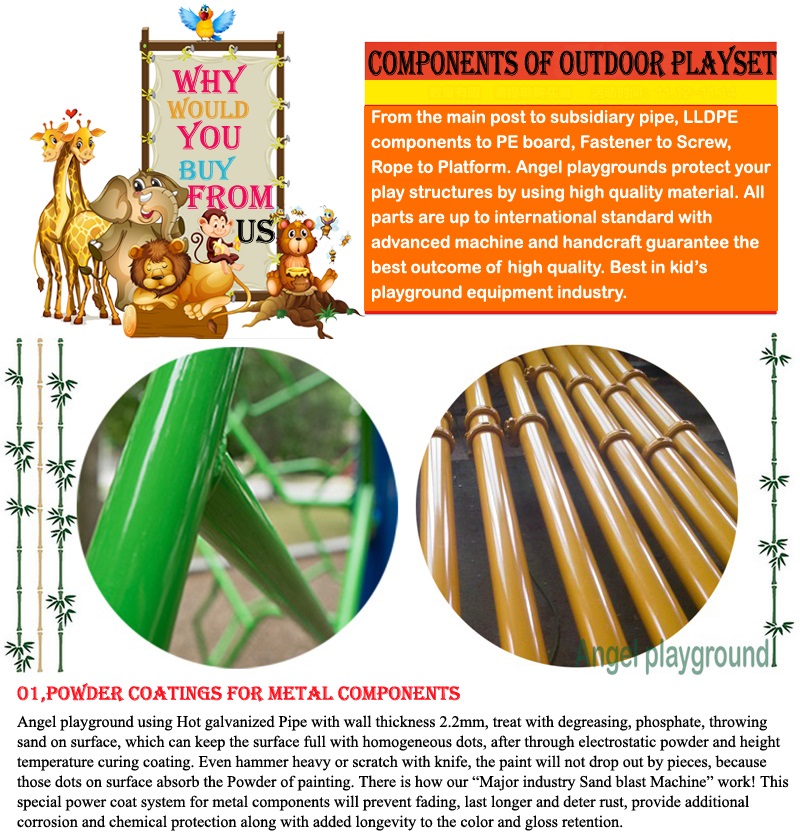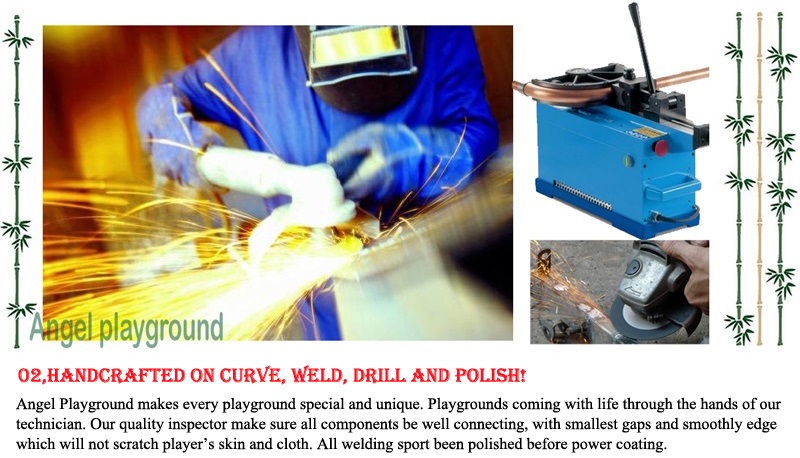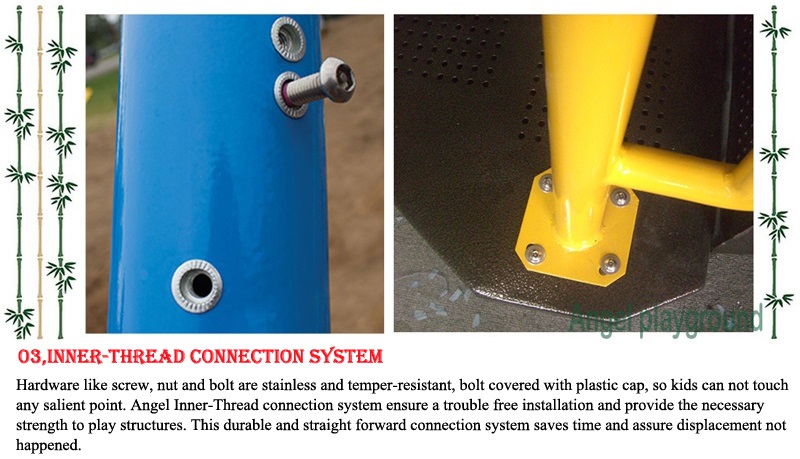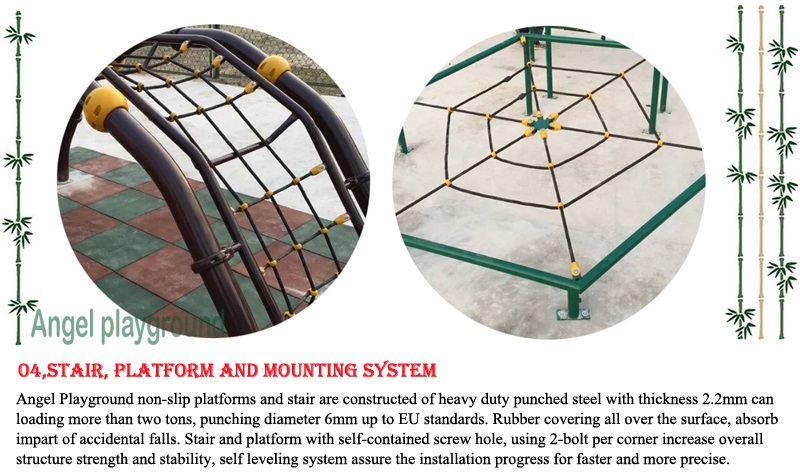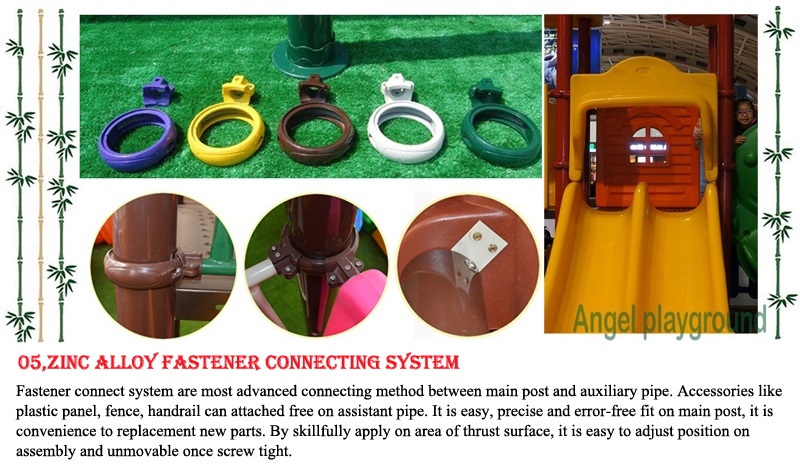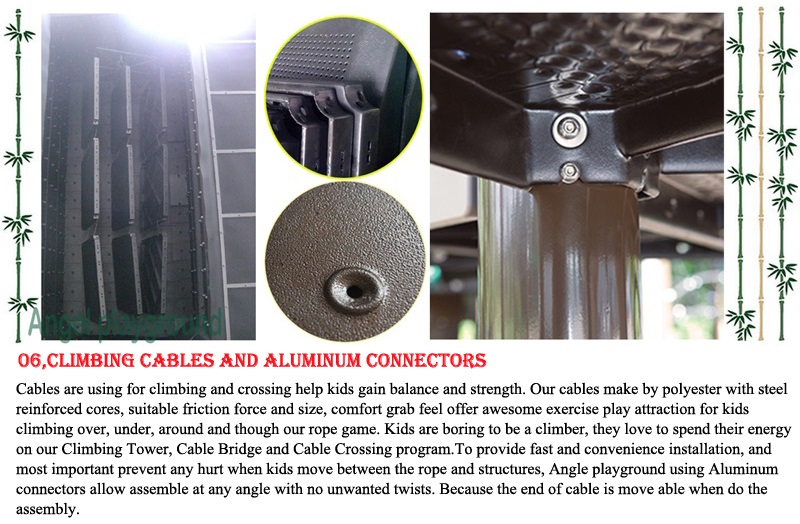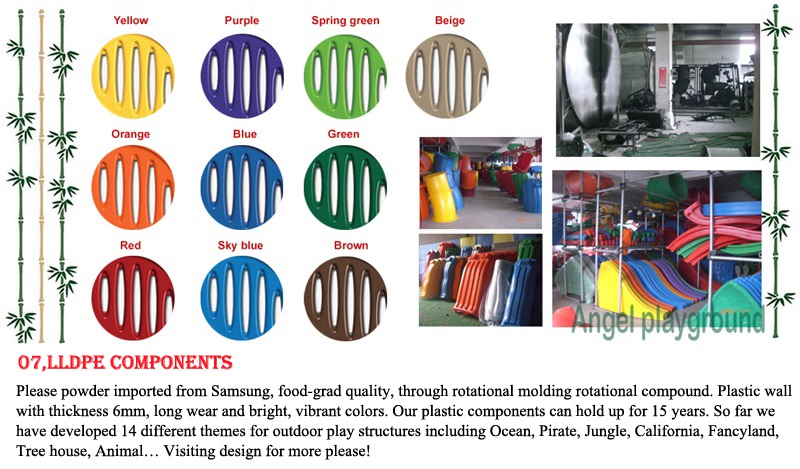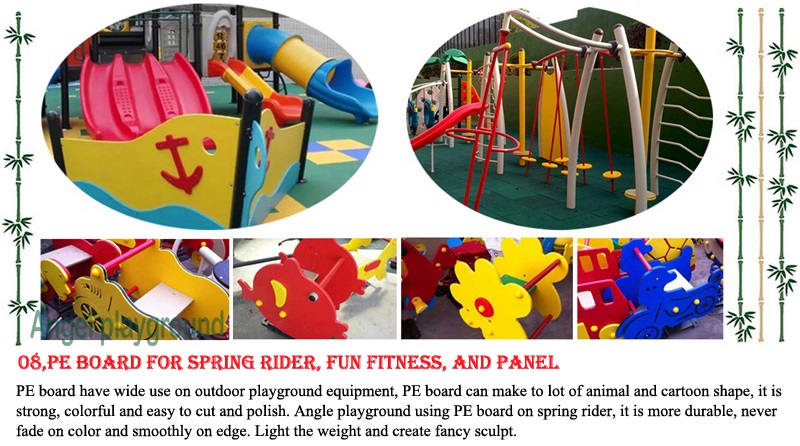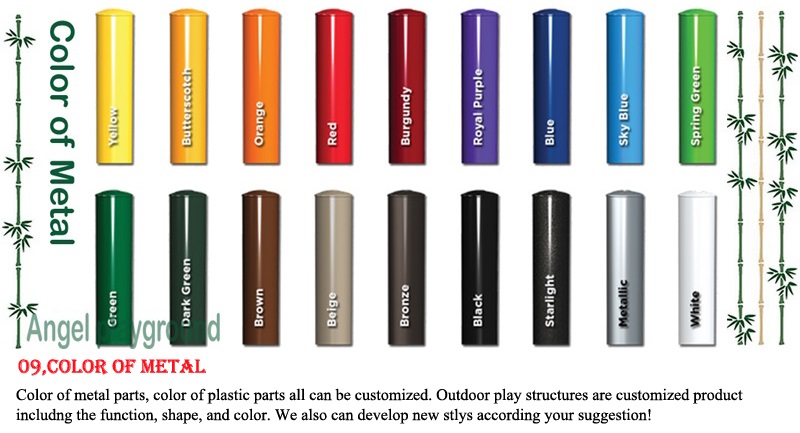 Outdoor Playground Play an Important Role to Nurture Happy Kids
After the Rio Olympic, a Chinese woman swimmer named Fu Yuanhui went famous all over the world Fu Yuanhui is an Olympic swimmer. She is 20 years old and from the Chinese city of Hangzhou. She competed in the 100-meter backstroke event this week in Rio de Janeiro. She finished third in her semi-final swim on August 7. Shortly after the semi-finals, Fu became a trending topic on Chinese social media. A short time later, she became a trending topic around the world. She is loved by people all over the world for his positive attitude toward Olympic competition. Sports can make people happy. So does outdoor playground activities. Playground sets are not only beneficial for children's physical health but also their mental health.
To begin with, children can make a lot of new friend through doing activities in the outdoor playground. It is well received that friends is the source of happiness. A kid surrounded with a lot of friends tends to be more active and pleased than those who stay alone all day long. When thinking of a suitable place for kids to make a lot of friends in a natural and comfortable way, outdoor playground will no doubt be the best choice. The relationship that built through teamwork in doing activities is stronger and tighter than that built through other ways. Some friends kids make in the outside play structures will even remain life-long friends.
What's more, the best way to clam kids down and please kids is through doing activities. Some parents may treat kids with a lot of new toys or praise them with something when they can stop annoying them. Such actions will actually pass wrong value to children, which will make things worse to have them build up bad habit in gaining what they want in a wrong way. While the way to keep them away from bad emotion through doing activities will release their bad feeling by lighting up their spirit and therefore make it easy for them to accept what they have done wrong. And kids will also be happier through having fun with friends than being praised with gifts.
In conclusion, outdoor playground is a cure to bad emotions. They have the power to delight children and educate them with right values. The spirit of Fu Yuanhui should be an example of all kids who are playing in the outdoor playground. Happiness should come first no matter what they are doing. And this is also a useful knowledge that parents should acquire too.