California City
Product name: cheap residential outdoor playground equipment
Model:HP-B1502
Size (CM):1180x660x490
Size (FT):38.7x21.7x16.1
Size:1180x660x490
Price (FOB): 

$9600.00

Brand: Angel Outdoor Playground
Specification (cm): 1180x660x490 Product: HP-B1502 Material:
a. Plastic component: LLDPE (Linear Low Density Polyethylene)
b.Metal component: Galvanized steel pipe
c. Post: galvanized steel pipe with normal thickness 2.0mm
d. Deck, stair: Steel plate, plastic powder coated or PVC coated;
e. Fasteners: SS304
Capacity: 10-25 kids for 50m2 Age for: 3-12 years Leading time: 15 days after receiving the deposit. HS code: 95069900 Remark: Customized design.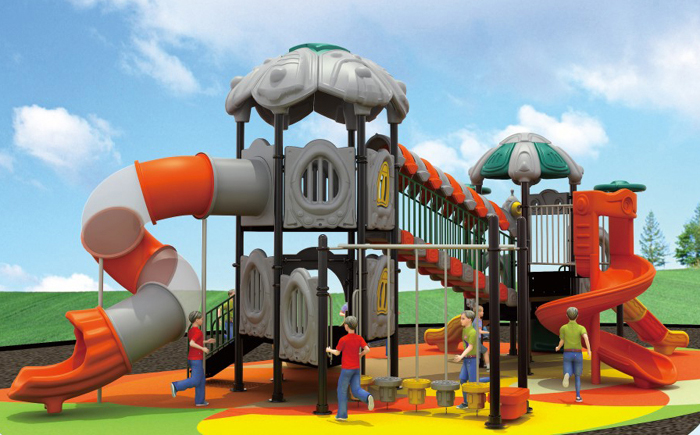 Top View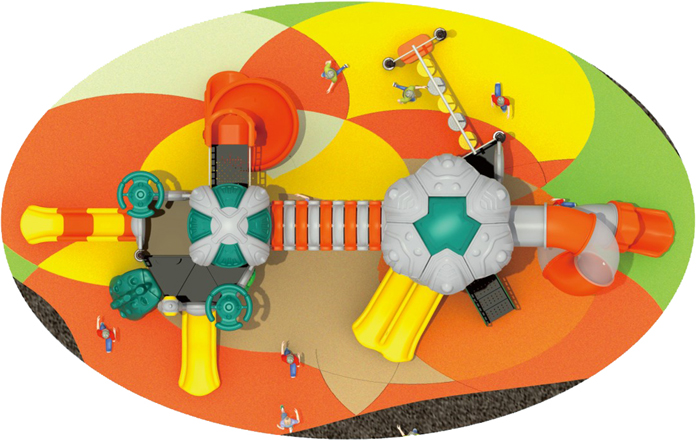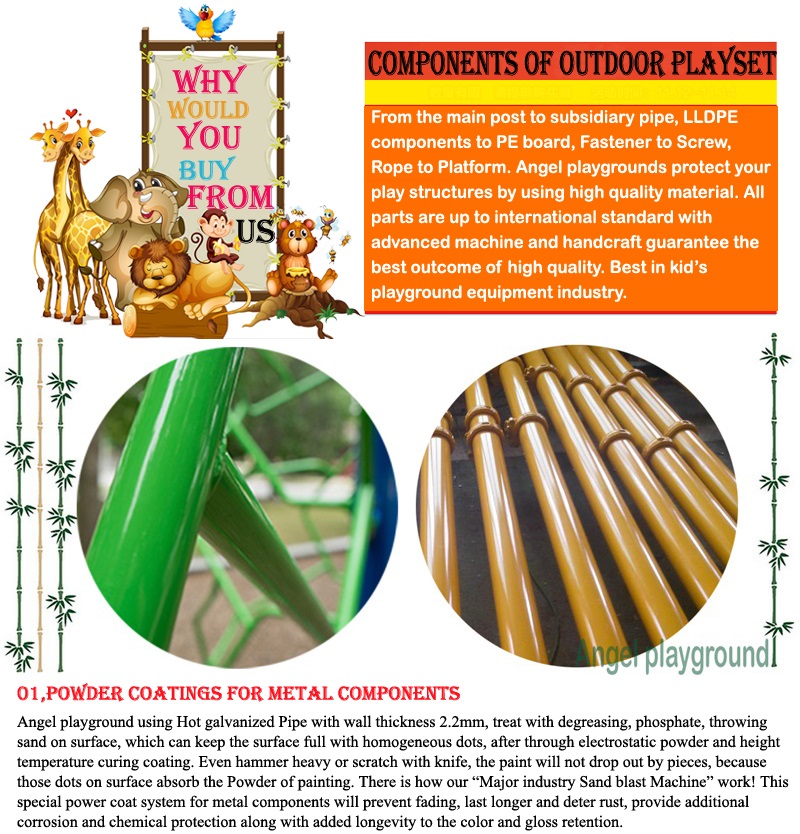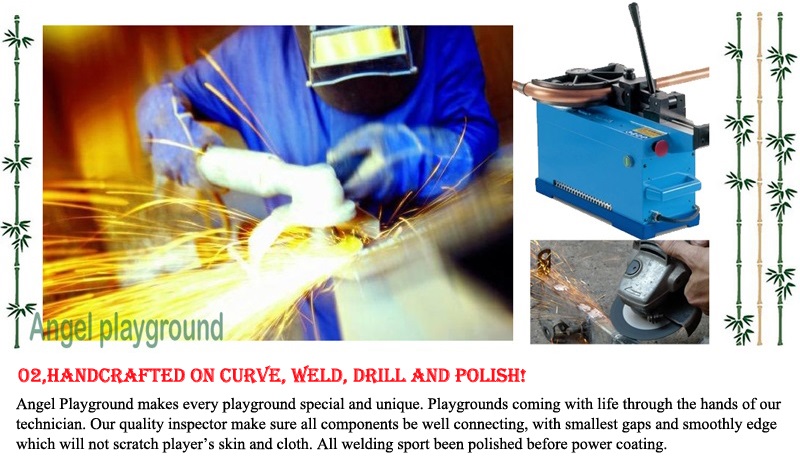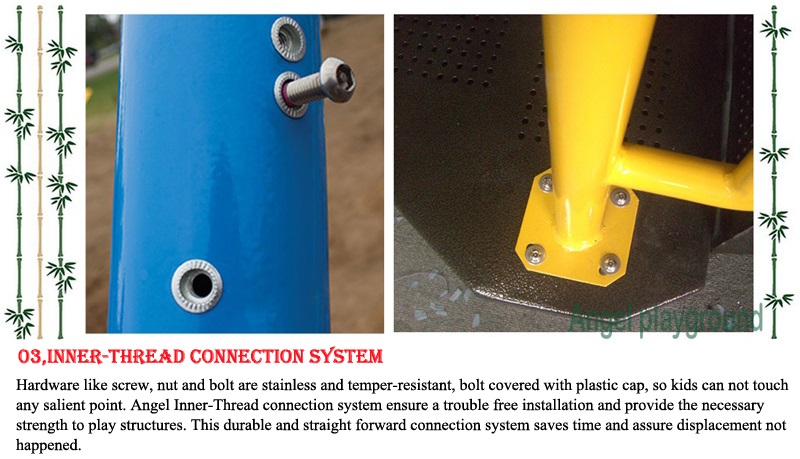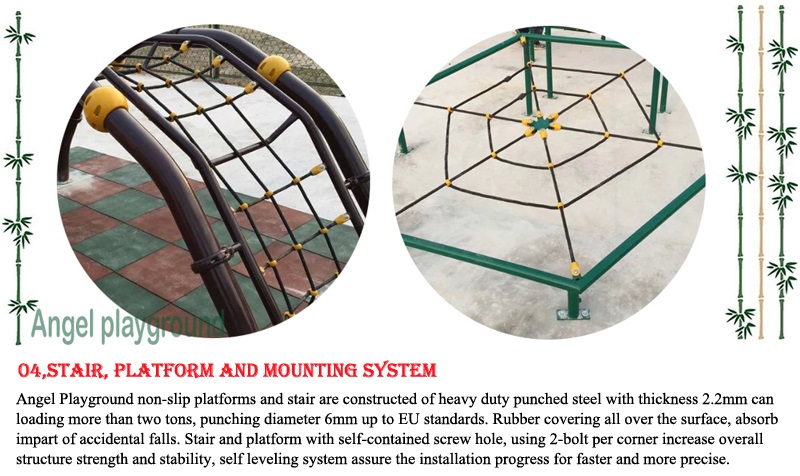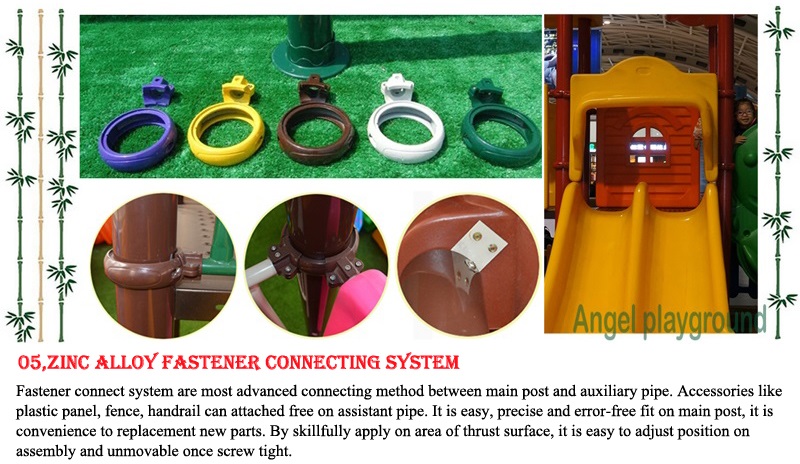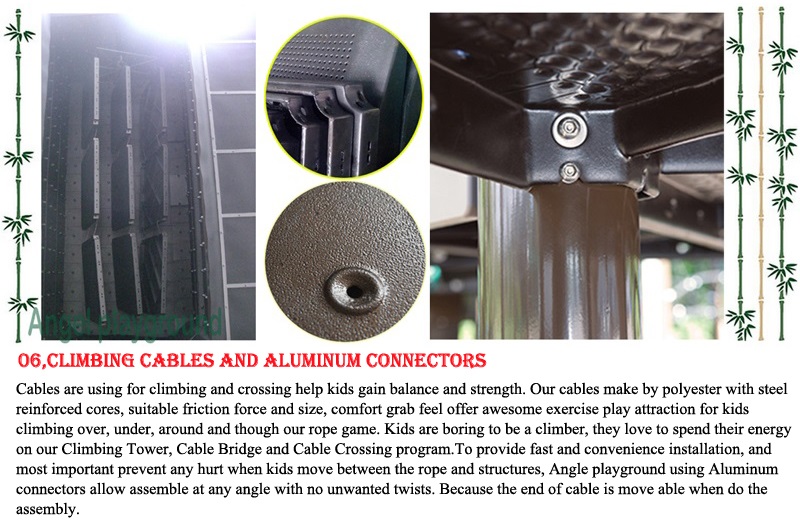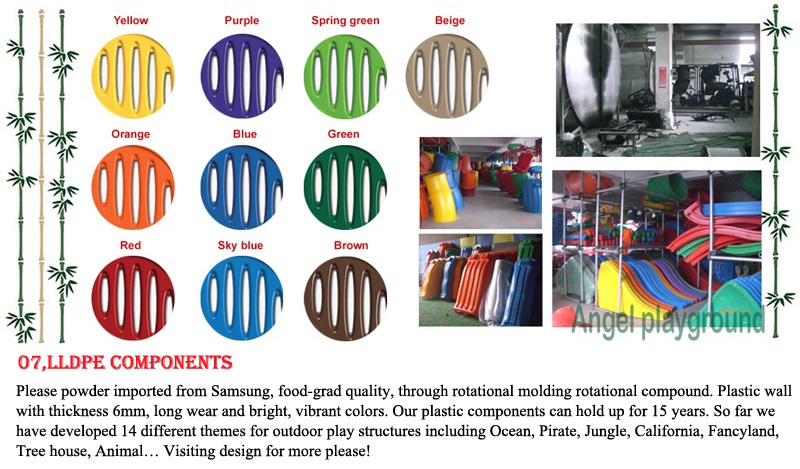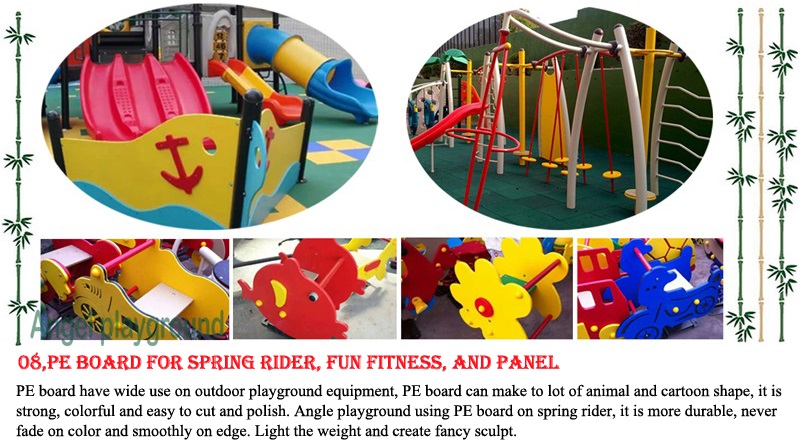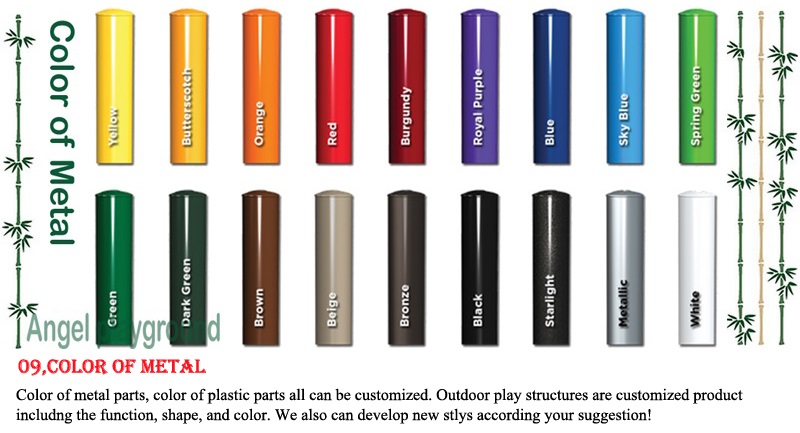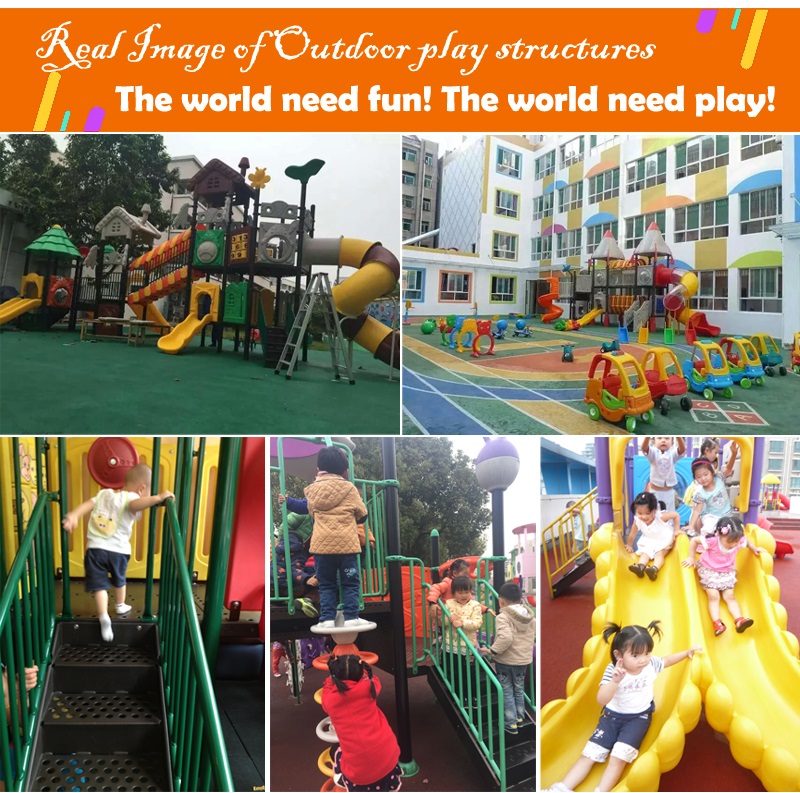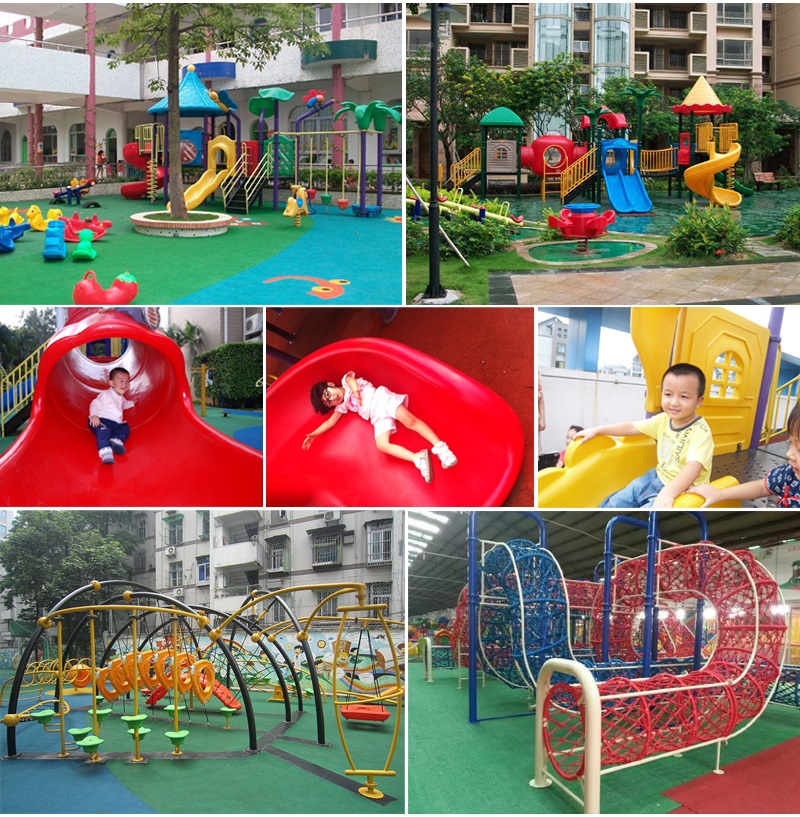 Outdoor Play Equipment Helps to Cultivate Independent Kids
It is well received that playing is not a solitary activity but one that requires collaboration among people. As parents, it is wise to view outdoor play equipment with the same point of view that the activities that your kids join in will also enhance their ability in cooperation, meanwhile, these outdoor playground activities play another role like helping kids to be more independent through game playing. This may sound like crazy and controversial, but in fact, they are two different ways of the same thing. In a word, outdoor play equipment is a heaven of games and at the same time an early school in which children can learn precious skills and develop decent personalities.
To begin with, in the outdoor playground, kids have learned to help others to finish the task, which is a good way to teach them teamwork. However, teamwork doesn't mean that kids should always rely on others, instead, it strengthen their ability of helping others and learn to count on themselves more to finish the task. On the one hand, they can benefit from the help that others provide. On the other hand, they will become more independent by making contribution to the whole team according to their own effort.
Secondly, outdoor play equipment will provide kids with a good chance to enjoy the happiness of their own without the company of their parents. Nowadays, some children have the difficulty of staying alone, especially those who are spoiled by their parents. It is necessary to find a smooth way to get them out of the complete care of parents and do things by themselves. This is also the first step of being independent and will make it easier for them to get accustomed to their first school life.
Last but not least, outdoor play equipment assists kids to discover new and interesting things. Can the ability of discovering helps to boost their personality of being independent? Of course it can. For one thing, the ability of discovering indicates children' interests in things they want without the direction of parents. Children's inclination toward something is the first sign of their independence as a child. For another, children can get into the habit of learning things from life instead of being told what to do by parents, which is also an important factor of being independent.
In a word, outdoor playground equipment is designed for kids for more benefits that they can gain in their childhood. Children who are interested in the outside world should get more access to the playground so that they can be more independent when they grow up!