Tree House
Product name: playground company
Model:HP-H1502
Size (CM):840X380X480
Size (FT):27.6x12.5x15.7
Size:840X380X480
Price (FOB): 

$4750.00

Welcome to Angel playground
Product: HP-H1502
Modules: 840X380X480
Theme roof,single slide,double slide, plastic tube with transparent part, net tube, theme panel, steel deck, steel post, climbing board,ladder,bridge...
Material:
a. Plastic component: LLDPE (Linear Low Density Polyethylene)
b.Metal component: Galvanized steel pipe
c. Post: galvanized steel pipe with normal thickness 2.0mm
d. Deck, stair: Steel plate, plastic powder coated or PVC coated;
e. Fasteners: SS304
Advantages:
a. Food grade plastic with wide color range available,and last long keep brand new.
b. With EU standard EN1176 GS safety certificate which verified by TUV NORD.
c. Experienced toy manufacturer which supply toys to world wide customers, The factory is leader of China Teaching tool and Education toy industry
Installation time 3 days (5 persons)
User age 3-12 years
Capacity 15-65 persons
Used for: Amusement park, residential area, kindergarten, preschool, shopping mall, restaurant, backyard
Packing:
Plastic parts: Bubble bag and PP film;
Steel components: Cotton fabric and PP film.
Warranty Period:
5 years for plastic parts, steel posts,metal decks and stairs; 3 years for steel component.
Notice:1. Please check the fasteners regularly to assure firm and safety structure.
2. Please keep kids play under adults supervision.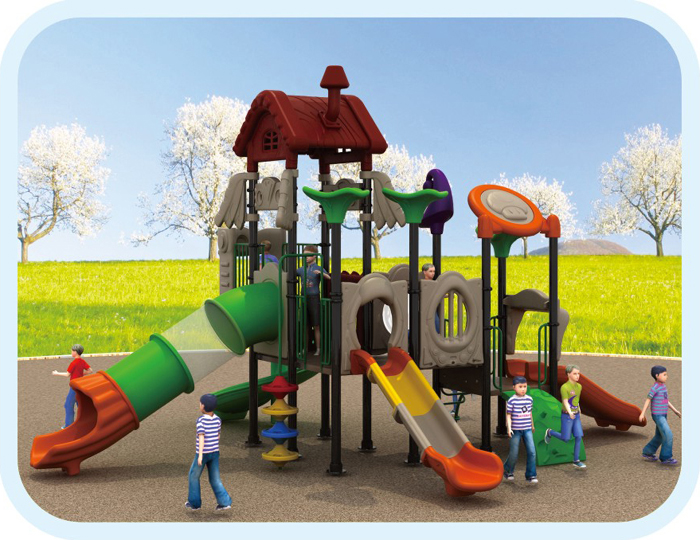 Top View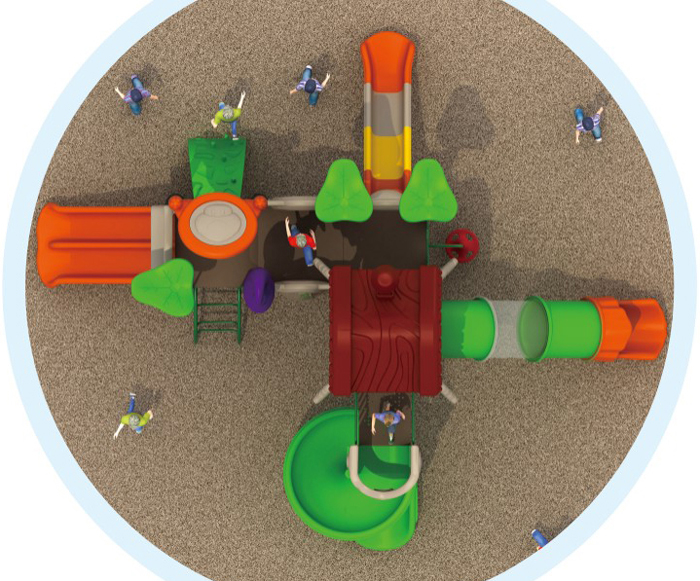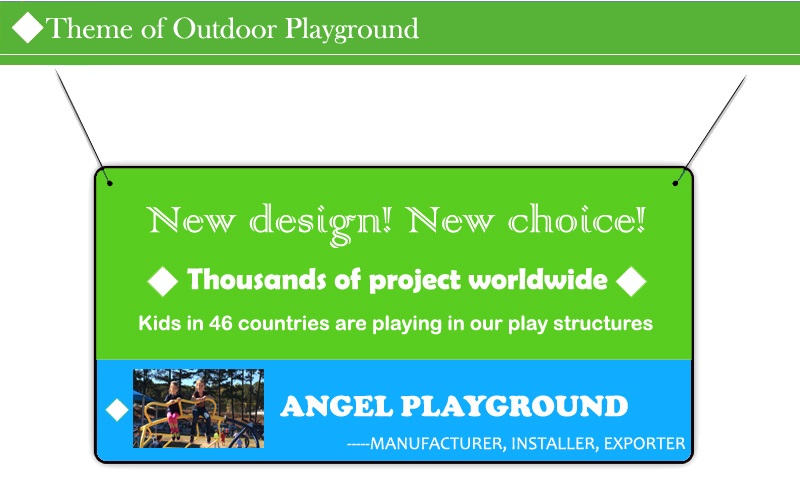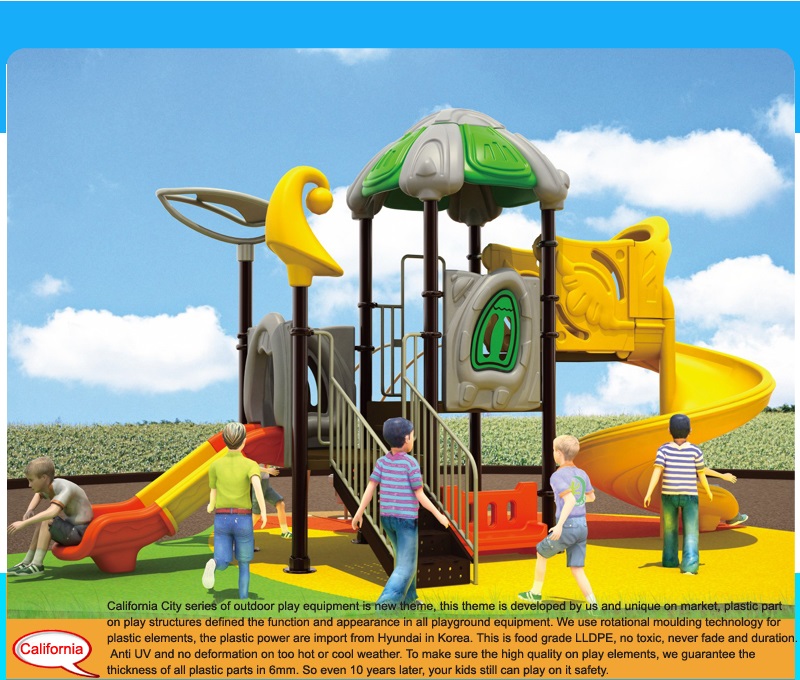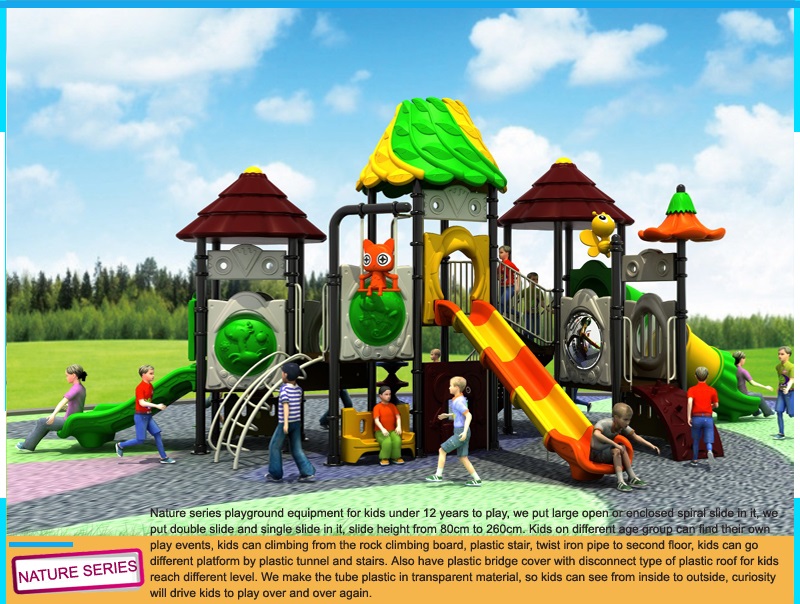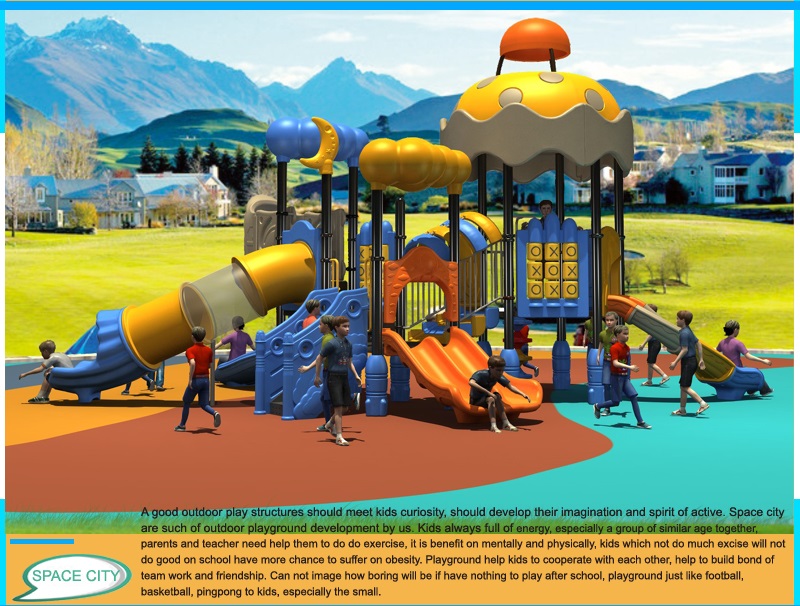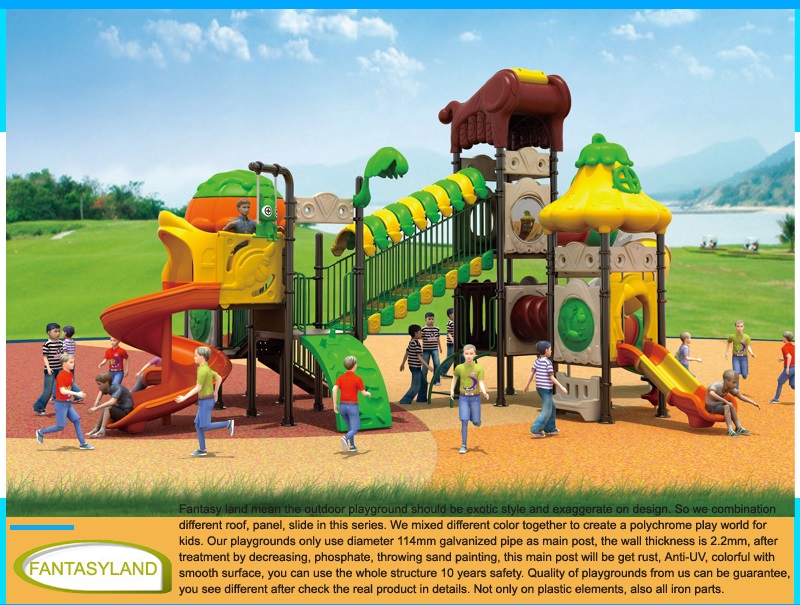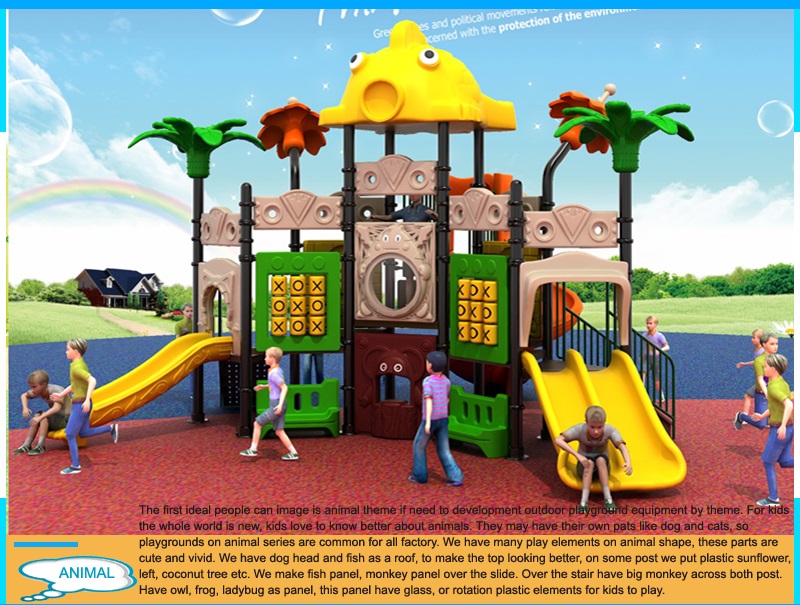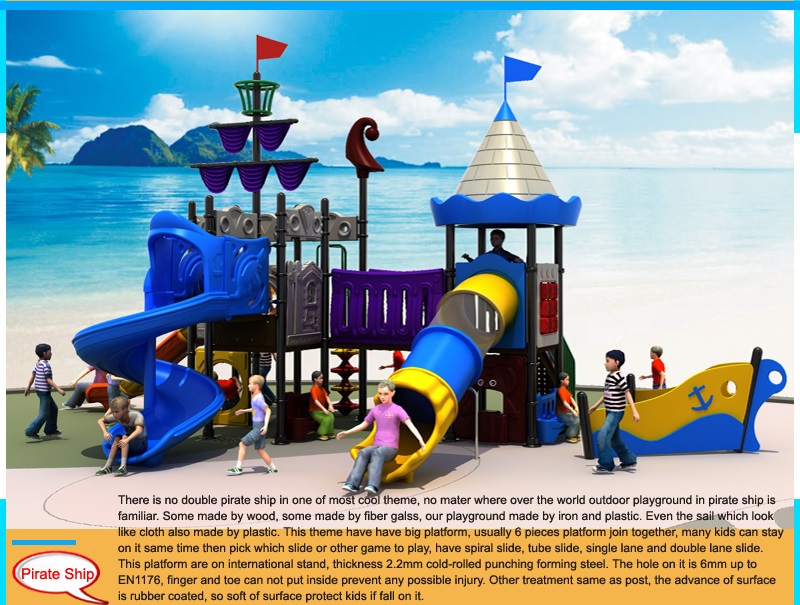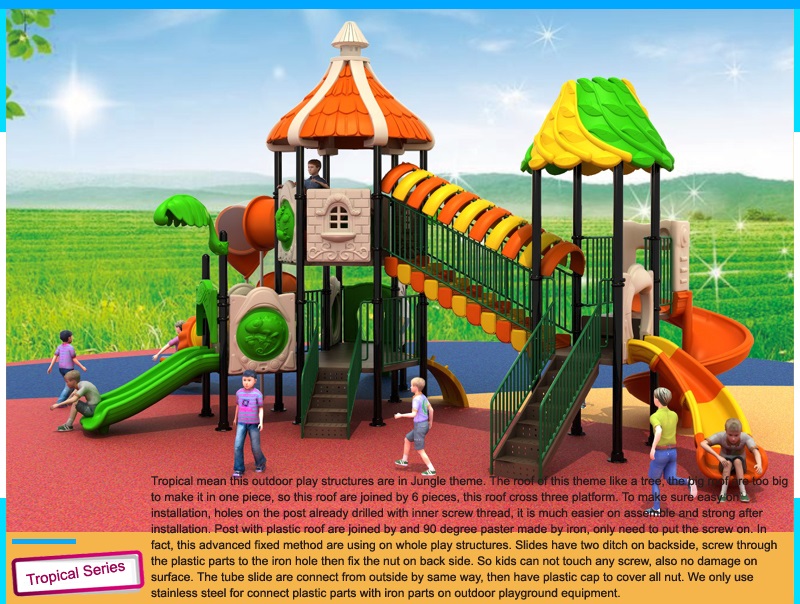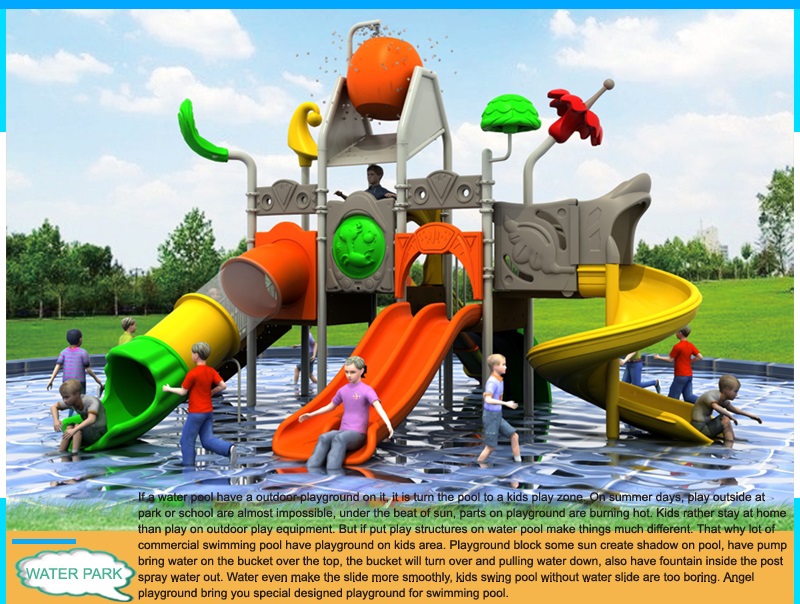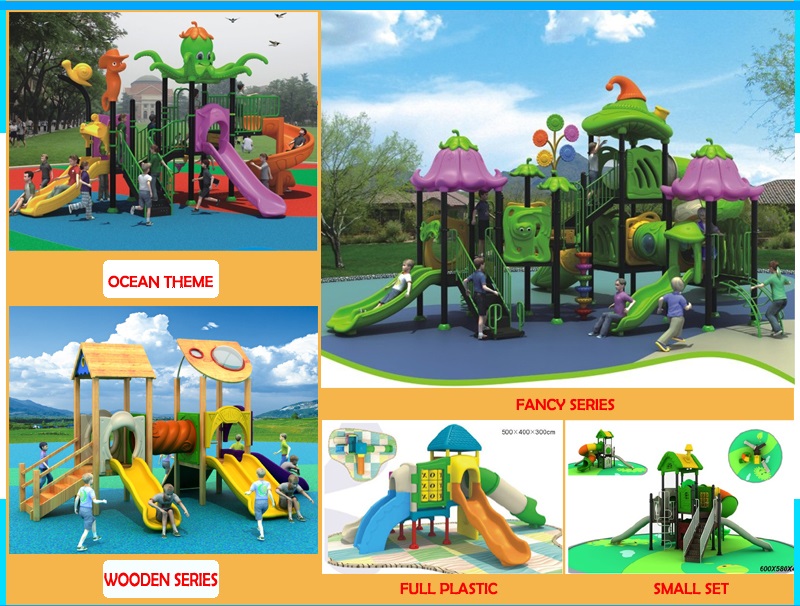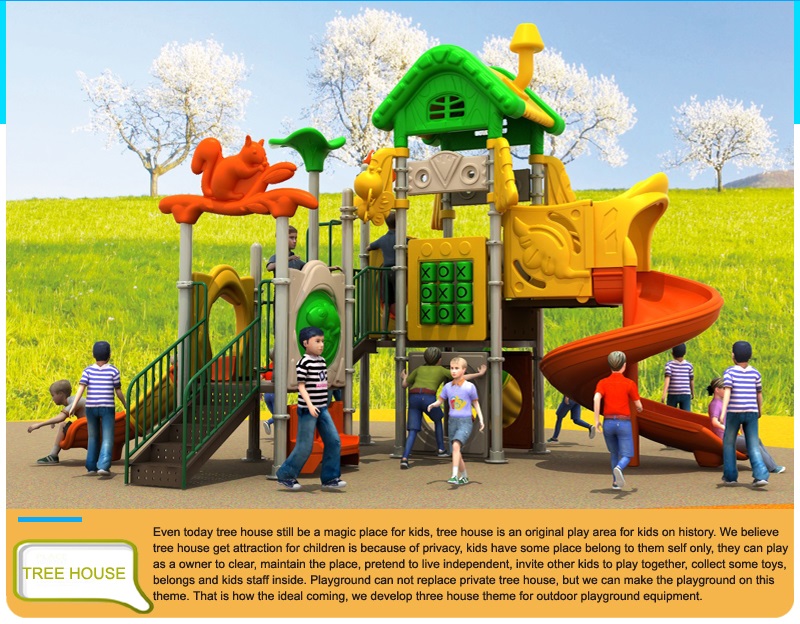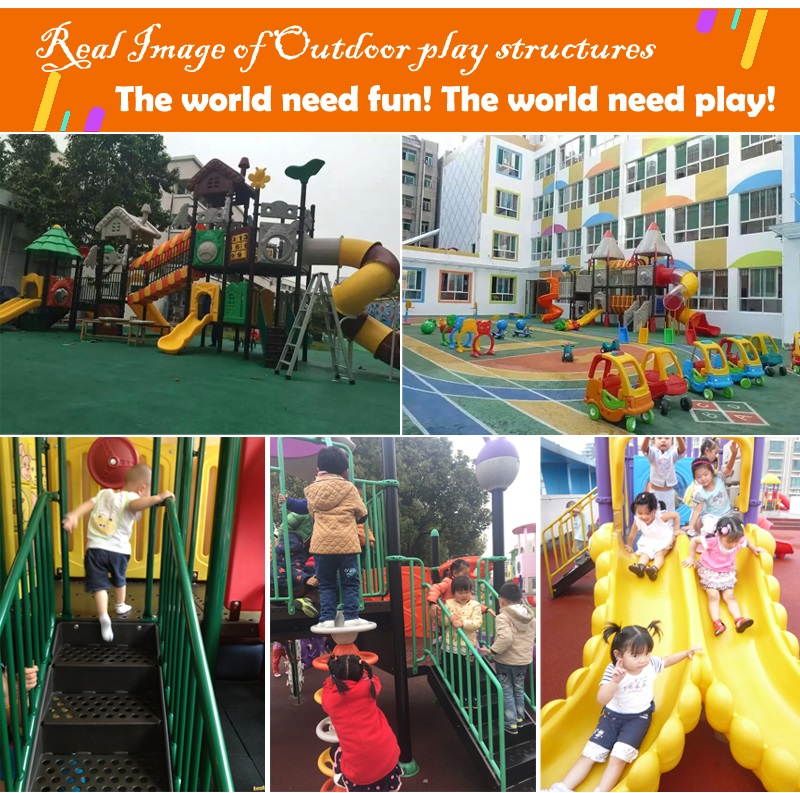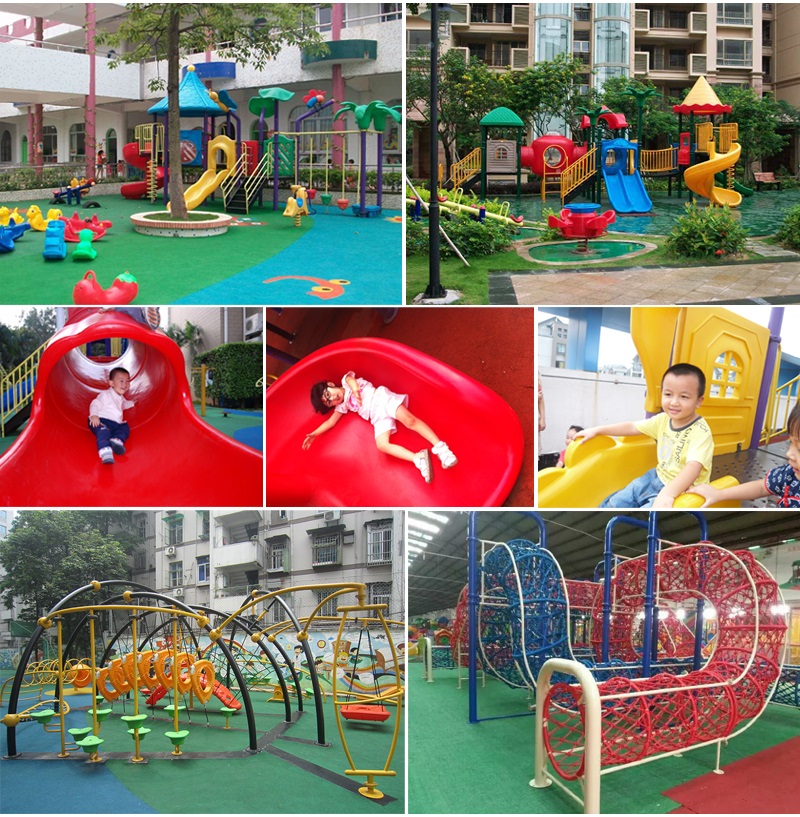 Should Outdoor Play Equipment Provide Kids With the Service of Inspiration?
Kids of all ages need inspiration while they are engaged in different activities. But it seems that people, except for the parents, are not good at inspiring kids due to the fact that it is not their business to care, therefore, it's not rare to see that outdoor play equipment managers pay little attention to inspiring kids when they are thwarted by difficulties. However, people's apathy toward the necessity of inspiration does no good to children's growth, which would even have a bad effect on kids so that they build up the habit of ignoring the need of others in the process of their growth. Therefore, it is never too much or too early to have kids learn the importance of inspiration since they are little kids in the outdoor play equipment.
To begin with, children need inspiration to make them braver. Most kids are reluctant to try things that seem to be a little frightening for them. But actually, these things are not as horrible as they thought to be. If there are someone who come and whisper beside their ears that these things are not terrifying and encouraged them to take a try, children may achieve better grades in some fields. The same is true of the inspiration in the outdoor play equipment. If people, no matter who they are, can inspire the kids as they do to their own kids, there will no doubt be of great help to nurture children's guts.
Secondly, the habit of always encouraging and inspiring others should be a character of all citizens. However, our society is now in the dilemma that people are used to mocking at other behind their back or just act as onlookers when others are in trouble. For me, it has never been the right education to spoil the kids by satisfying them with everything. Sometimes, inspirations work better in cultivate independent and reasonable kids. Hence, the role that outdoor play equipment plays is also not to do its best to satisfy the kids as well as the parents, but to focus on the ability of inspiring kids.
Last but not least, a lot of inspirations in the outdoor play equipment help to make the place a friendly and warm place for kids to have fun. Children love to be inspired because for them it's a way of being cared by others rather than their parents. They will be happier and show an amiable attitude to kids around them. What more important is that they may also learn the useful skill of inspiring their peers as the babysitters do when they are in trouble.
All in all, I hold the view that outdoor play equipment should provide kids with the service of inspiration for children.