Small Size Playground
Product name: playground sets 
Model:HP-A1503
Size (CM):515x420x310
Size (FT):17x13.8x10.2
Size:515x420x310
Price (FOB): 

$1450.00

Measurements (cm): 515x420x310
Product: HP-A1503
Modules:
Theme roof,single slide,double slide, plastic tube with transparent part, net tube, theme panel, steel deck, steel post, climbing board,ladder,bridge...
Material:
a. Plastic component: LLDPE (Linear Low Density Polyethylene)
b.Metal component: Galvanized steel pipe
c. Post: galvanized steel pipe with normal thickness 2.0mm
d. Deck, stair: Steel plate, plastic powder coated or PVC coated;
e. Fasteners: SS304
Advantages:
a. Food grade plastic with wide color range available,and last long keep brand new.
b. With EU standard EN1176 GS safety certificate which verified by TUV NORD.
c. Experienced toy manufacturer which supply toys to world wide customers, The factory is leader of China Teaching tool and Education toy industry
Installation time 3 days (5 persons)
User age 3-12 years
Capacity 15-65 persons
Used for: Amusement park, residential area, kindergarten, preschool, shopping mall, restaurant, backyard
Packing:
Plastic parts: Bubble bag and PP film;
Steel components: Cotton fabric and PP film.
Warranty Period:
5 years for plastic parts, steel posts,metal decks and stairs; 3 years for steel component.
Notice: 1. Please check the fasteners regularly to assure firm and safety structure.
2. Please keep kids play under adults supervision.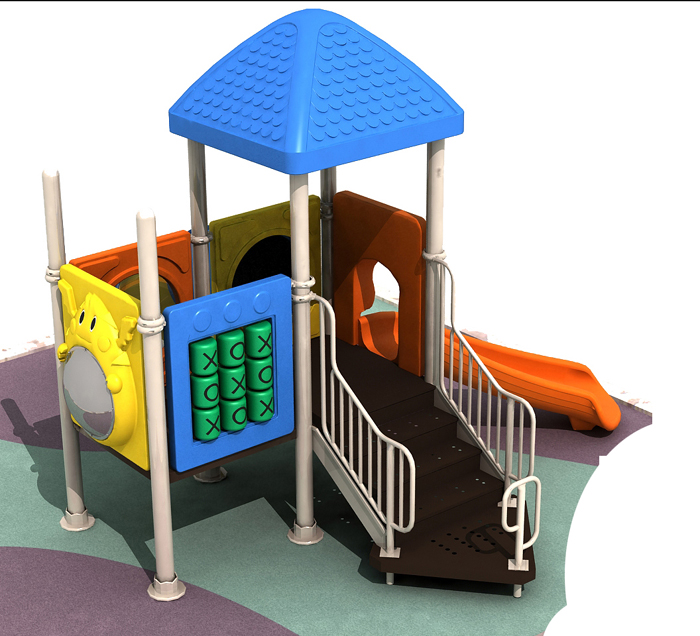 Top View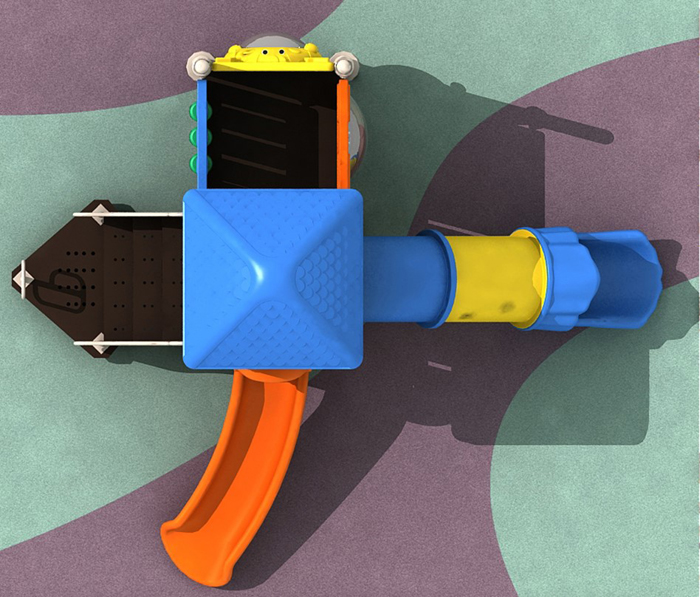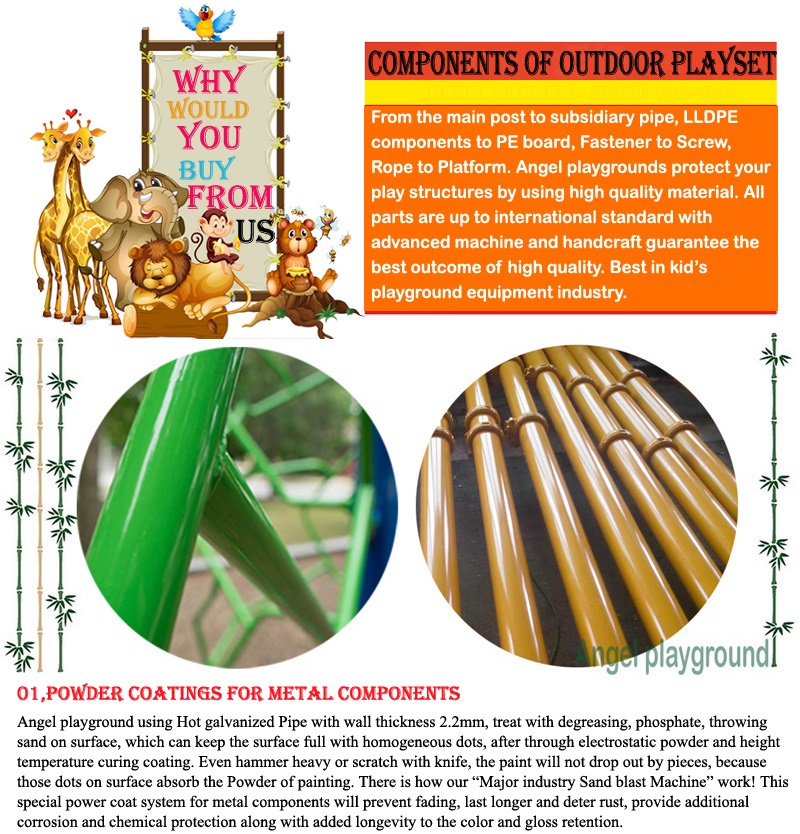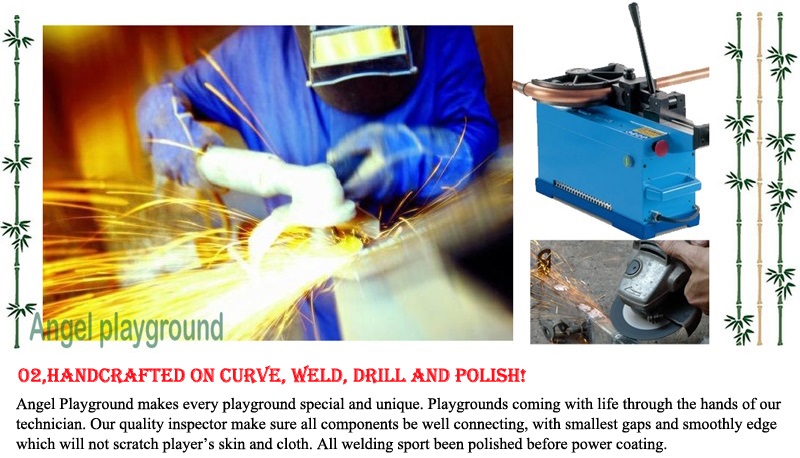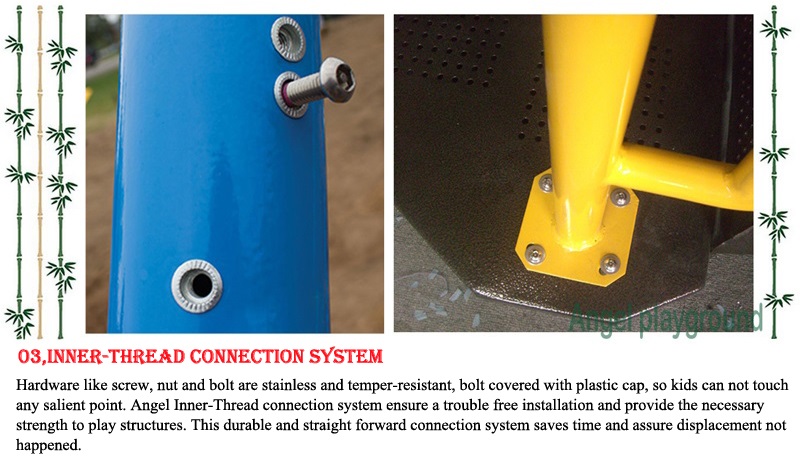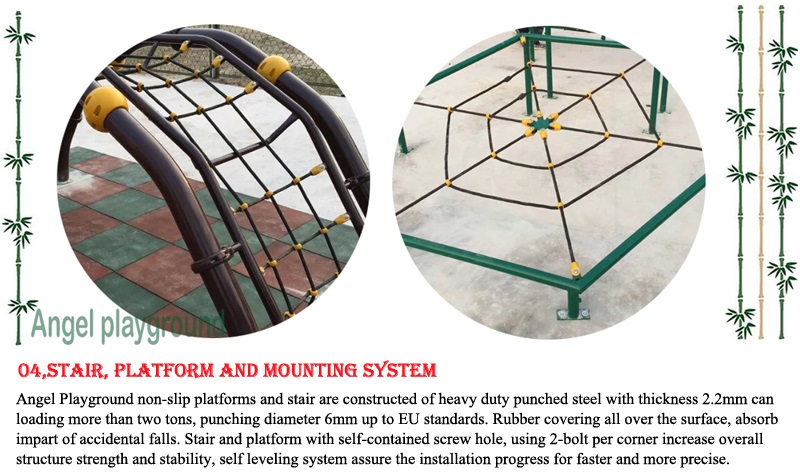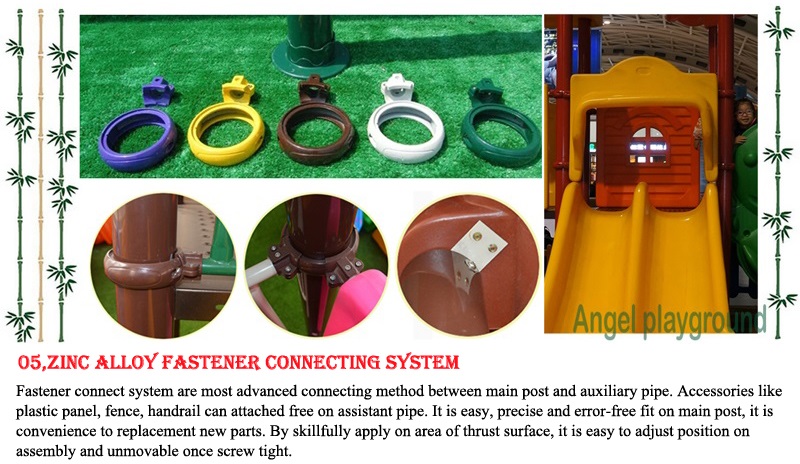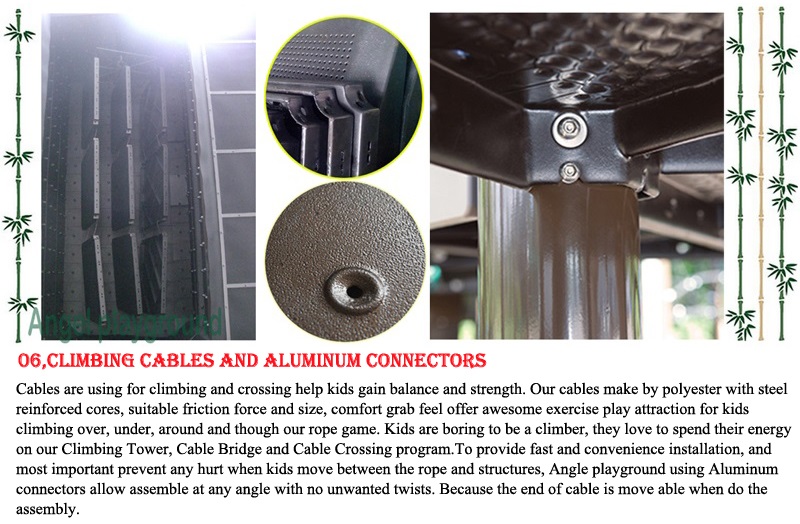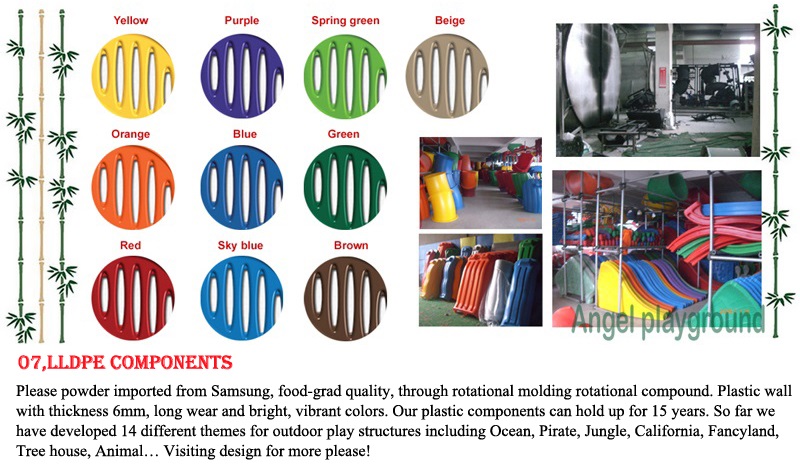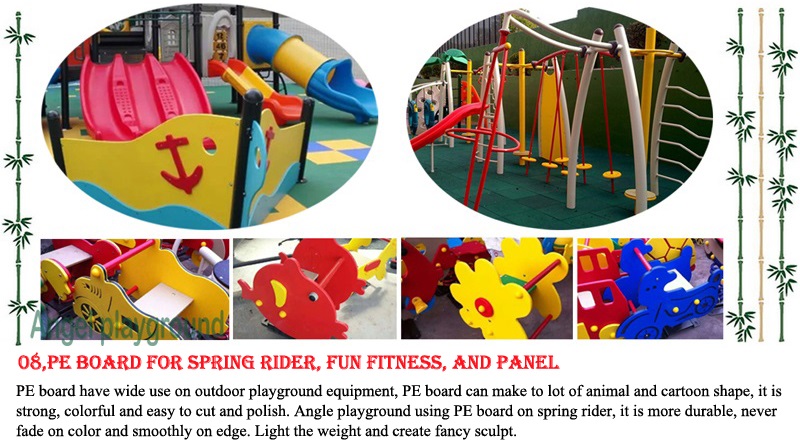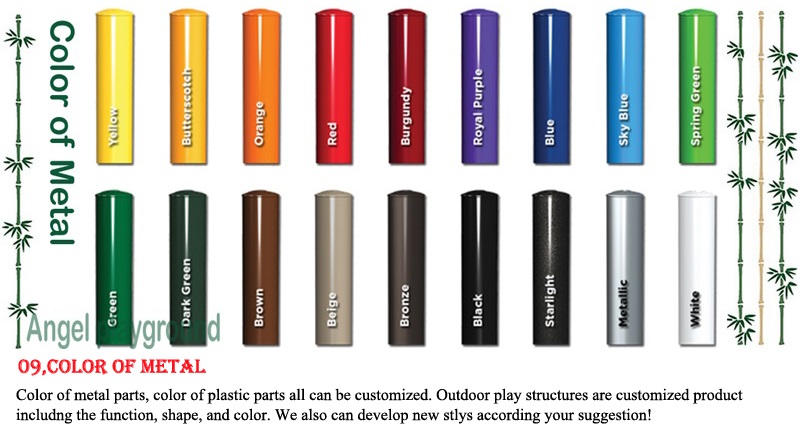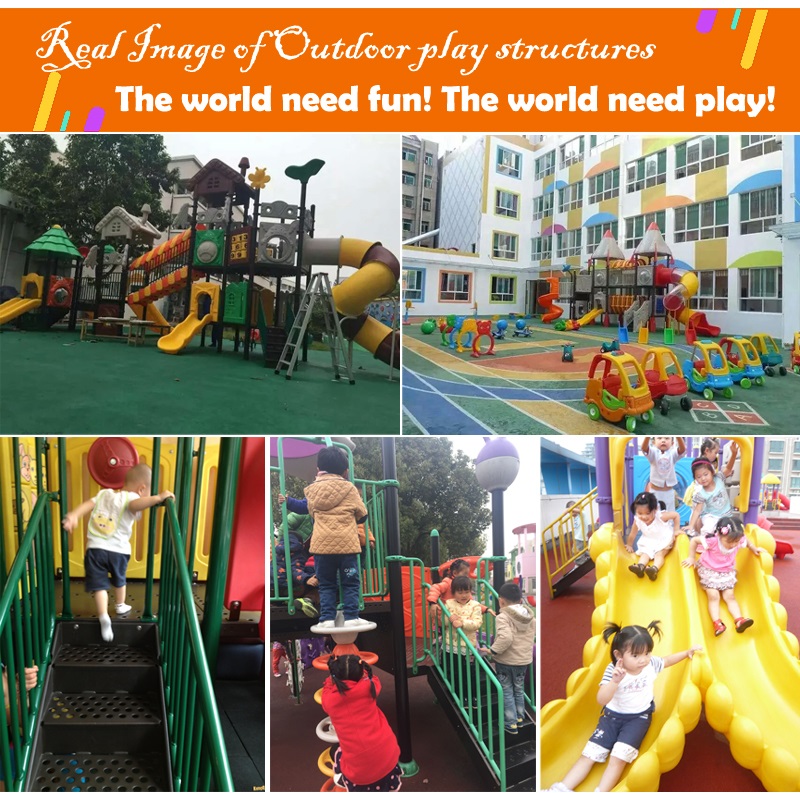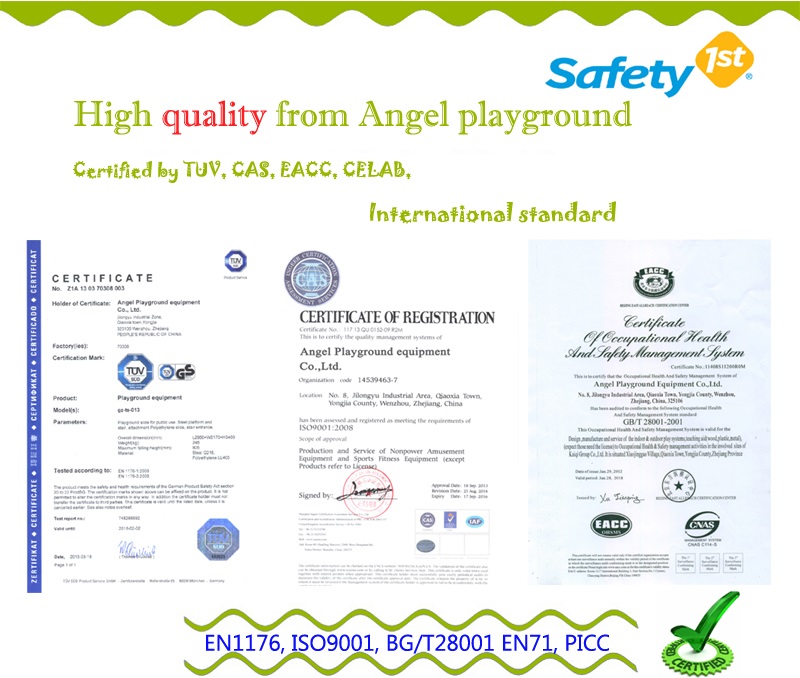 Set Up To Venture in the Outdoor Play Equipment with the Kids
Have your kids ever showed and curiosity to venture in the outside world? Have you ever worried about can't find somewhere to provide your kids with chances to explore something interesting and new? Nowadays, children who live in the city have little access to explore the nature. It's a pity that they have no idea about how little things can make our life beautiful. Some parents must be concerned about where to have their kids get close to nature; I think outdoor play equipment built in parks will be a good choice for you. Outdoor play structure is a small colorful world where children get to touch the plants, to enjoy the sunshine, and smile brilliantly. In a work, if your kids want to venture in the outside world, take them to the outdoor kids playground!
Firstly, it is good experience to have your kids cuddle the nature while playing in the outdoor play equipment. Most kids today are like bird in the cage, their life is crowded with modern technology and different tasks given by their parents. Perhaps parent would take them to the nearby indoor play center for relaxing afternoon, but they are still not allowed to have a chance to get close to the nature for the restriction in life. Therefore, the outdoor play site, as a substitute for nature, can be used as a good tour to help the kids learn more thing than in the indoors. An experience of playing in a natural place will no doubt bring them with strange but happy feeling.
Secondly, it is of great benefit to have your kids get enough sunshine. One of the most obvious advantages of the outdoor playground is that it is a place where kid can take in a lot of sunshine. While living in the city, busy transportation, crowded streets as well as pollution hinder people's intention of going outside their homes to enjoy the warm sunshine. But with the erection of more and more outdoor kid playground in some parks which lies far away from the noisy city center will be a good place to enjoy the sunshine, touch the breeze without any trouble of getting the trouble of unexpected matters.
In conclusion, outdoor play equipment is like a small area divided form nature which allows kids to explore new and interesting things they have never touch before. Outdoor play equipment for kids opens a door for kids to hug the nature without getting out of the real world! Isn't it a amazing?