New outdoor Playground
Product name: playground equipment suppliers
Model:HP160929
Size (CM):960x740x460
Size (FT):31.5x24.3x15.1
Size:960x740x460
Price (FOB): 

$11714.00

Angel playground are top suppliers in China for playground equipment, This playground in perfect design, symmetrical on both side with Stair, climbing board, S open slide, in middle have 3 lane slide and tube slide.
Novel Kids Play Equipment For Home and Commercial use, supply by Angel Playground Equipment
Welcome to Angel outdoor playground

Product

playground equipment suppliers

Size(cm)

960x740x460

Certificate

GS safety certificate by TUV according to EN1176 standard.

Modules

Theme roof, slide, plastic tube with transparent part, net tube, theme panel, square steel deck, steel post, climbing board, stair, color bridge

Material

A. Plastic component: LLDPE

B. Metal component: 114mm Galvanized steel pipe, thickness 2.0mm

C. Deck, stair: Steel plate, plastic powder coated or PVC coated

D. Fasteners: SS304

Advantages

A. Food grade plastic used for our toys. With wide color range available, and last long time.

B.Experienced toy manufacturer which supply toys to world wide customers for 21 years. The factory is leader of China playground industry.

Installation time

3 days (3 persons) for size around 80m2

User age

3-12 years

Capacity

5-20 kids for 50m2

Used for

kindergarten, preschool, shopping mall, restaurant, coffee shop, amusement park, residential area....

Packing

Plastic parts: Bubble bag and PP film;

Steel components: Cotton fabric and PP film.

Warranty Period

5 years for plastic parts, 3 years for steel component, One year for others

Notice

1. Please check the fasteners regularly to assure firm and safety structure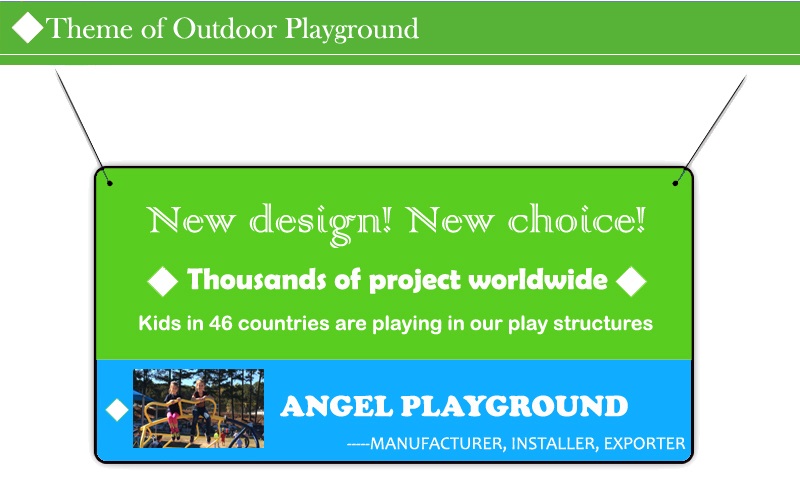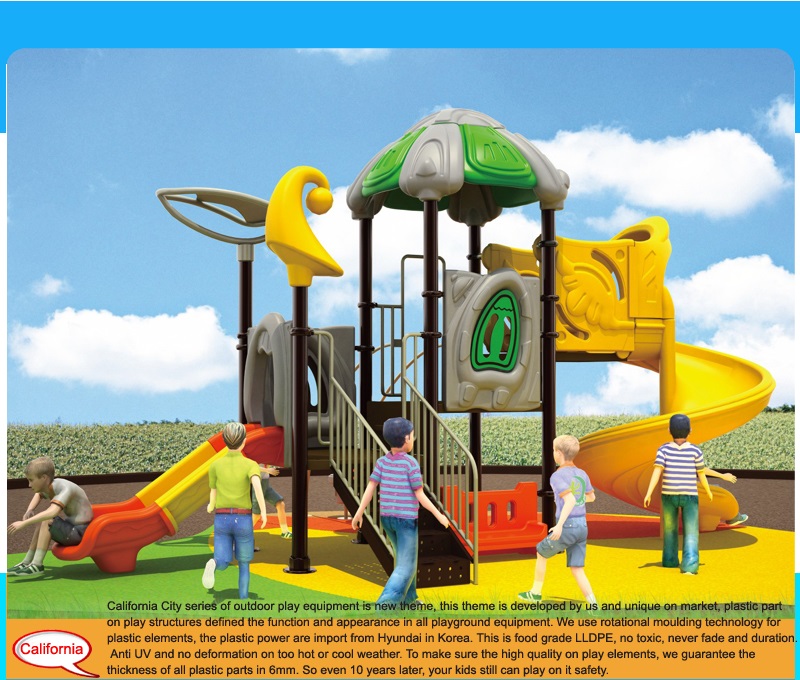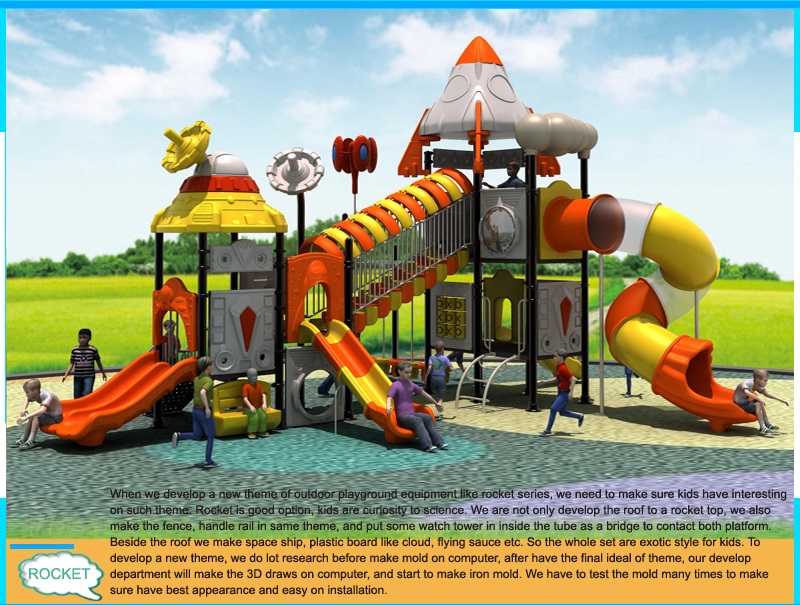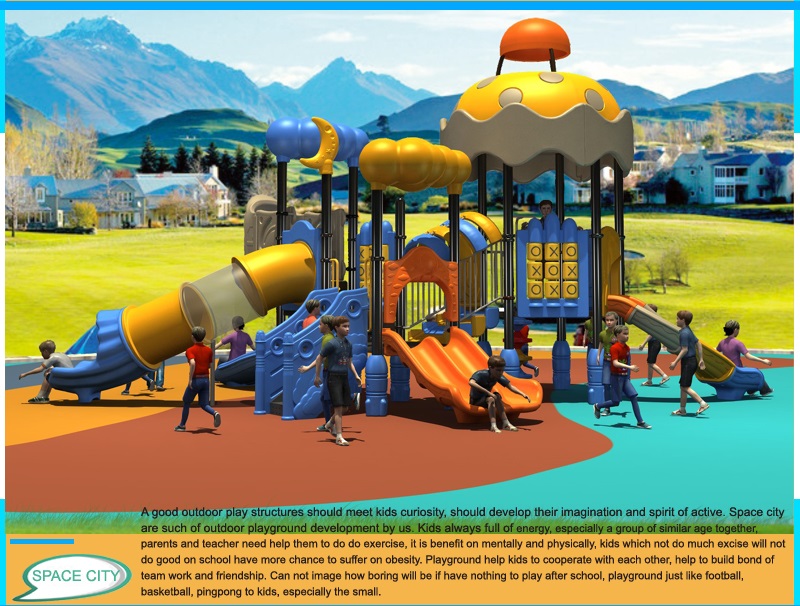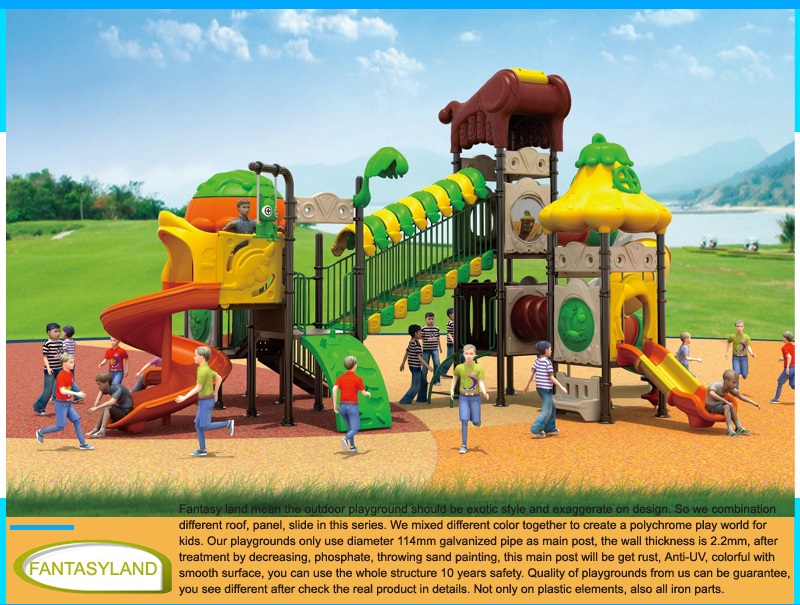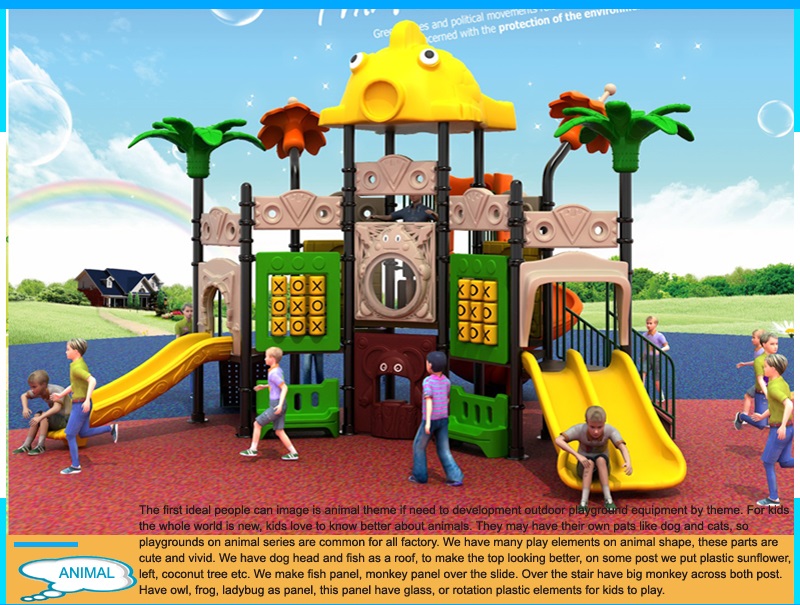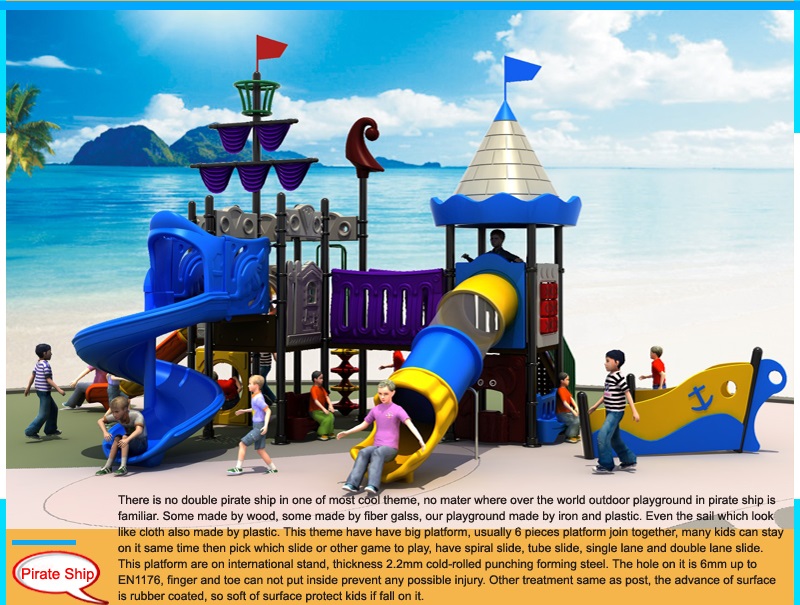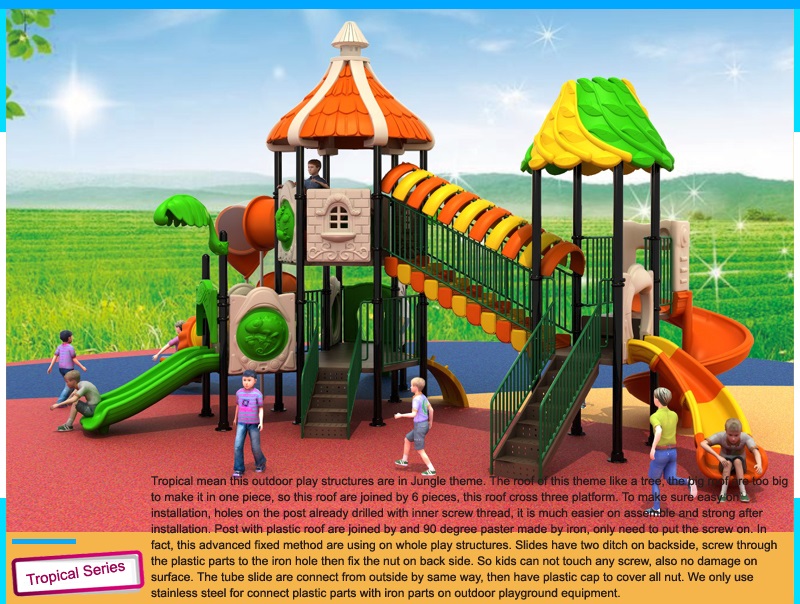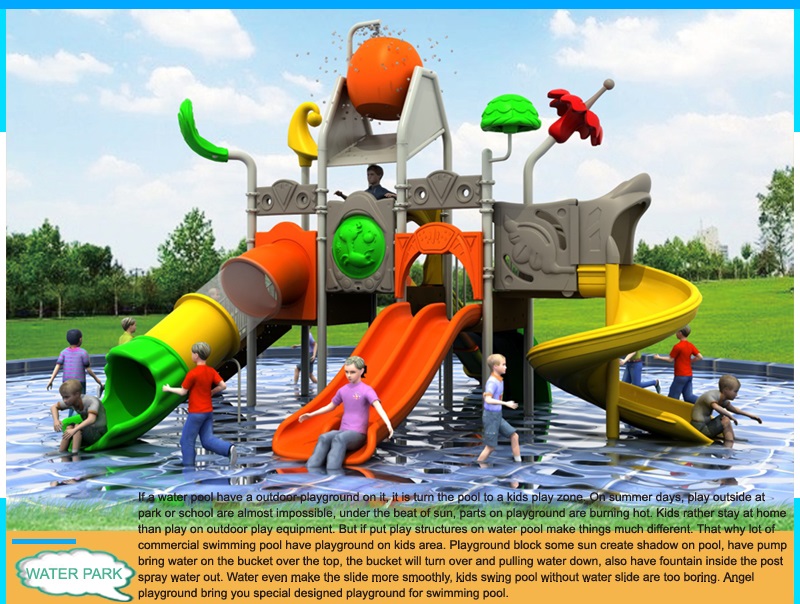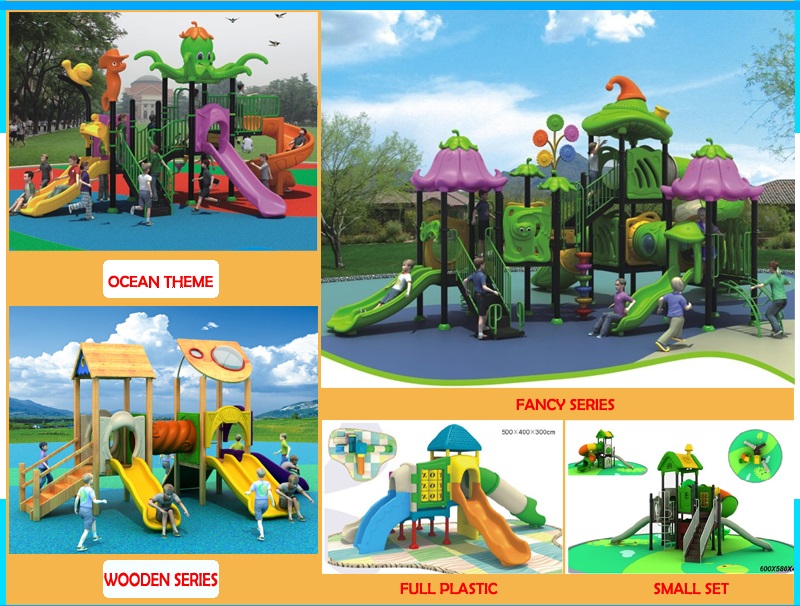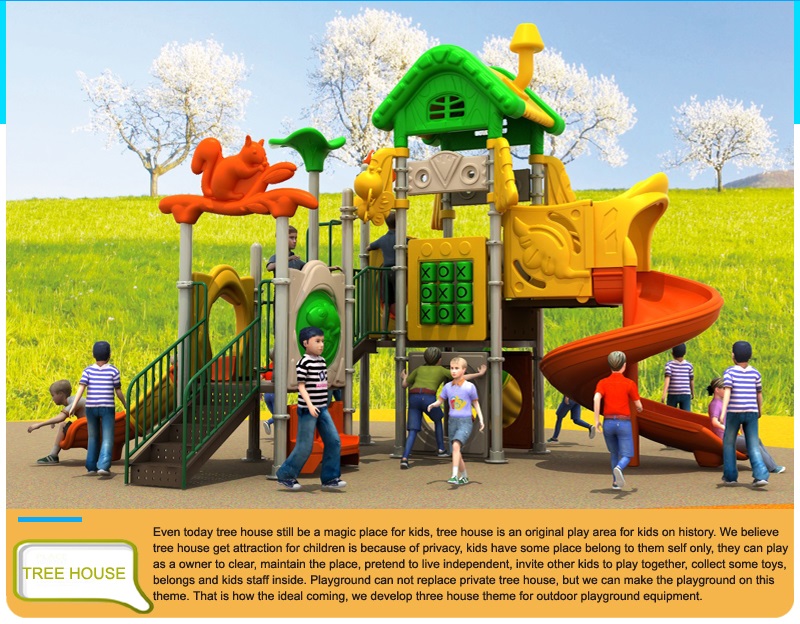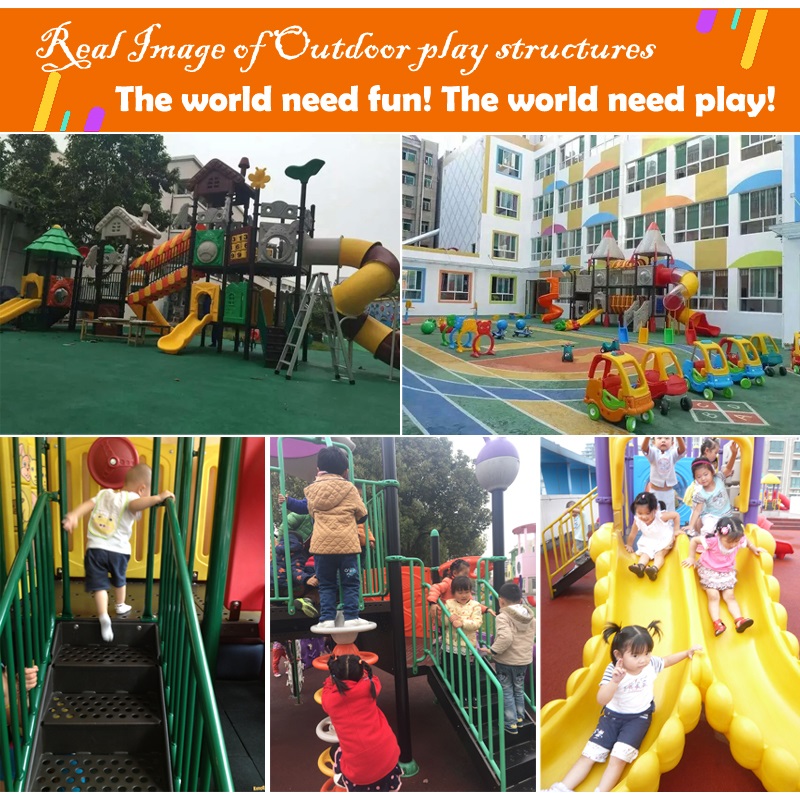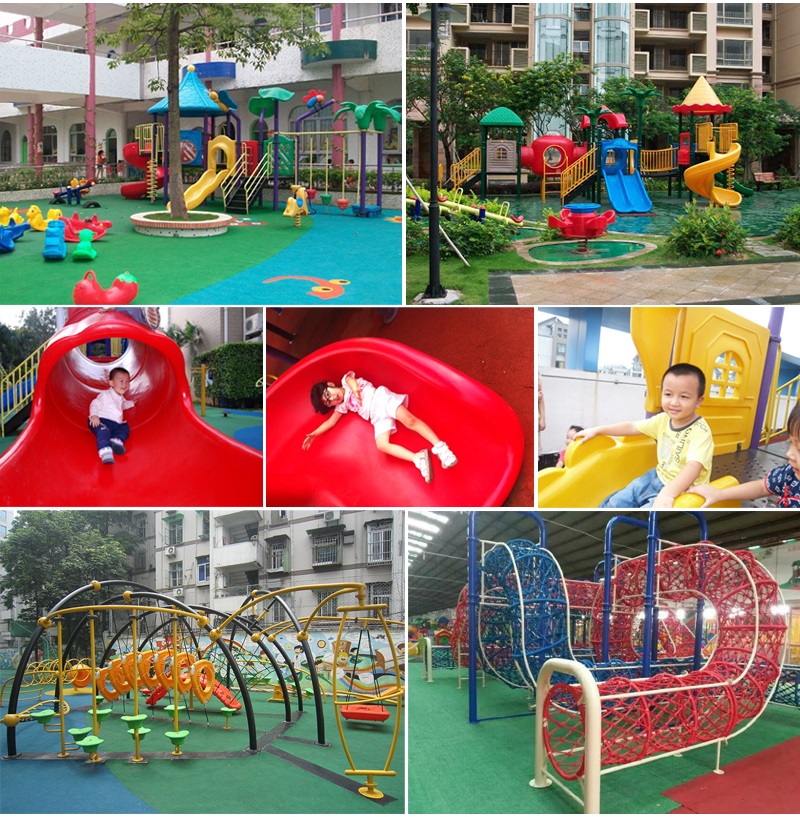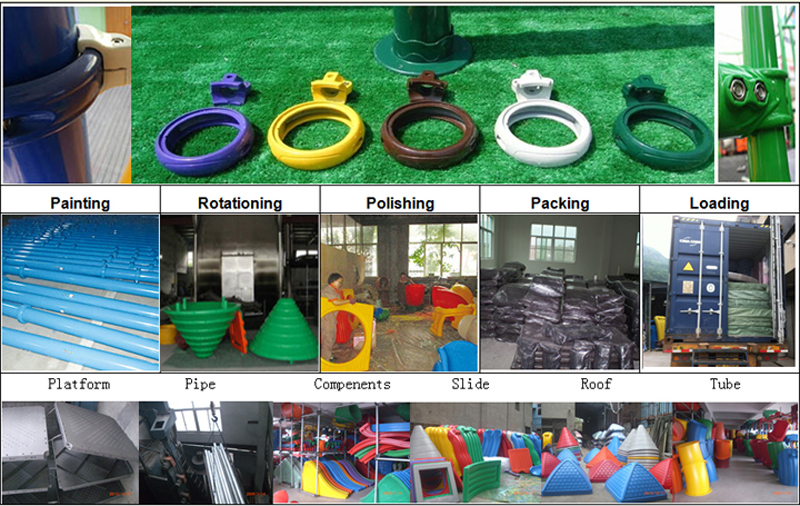 Favors Should Be Given To Build More Outdoor Playgrounds
As time went by, outdoor playgrounds have already become a very playing area all over the world. As a result, playgrounds for children are very popular these days. When asked whether outdoor playgrounds are necessary and important for kids, some claim that outdoor playgrounds are not vital and relative to children's life. From my understanding, outdoor playgrounds are more suitable and practical than any other toys for children who are active and always inquiring for activities. They are good places to release their natural personality. However, because of overlook of most parents and lack of support from social fiancé, more and more outdoor playgrounds are abandoned and are gradually their original function in contenting and attracting kids. so t strongly insist that more favors should be given to build more outdoor playgrounds.
Firstly, outdoor playgrounds provide kids with better surroundings when doing activities with parents or other kids. a good playing atmospheres displays the situations of social atmospheres, on the contrary, a genuine playing atmosphere boost the harmony of our society. Parents who don't have a good relationship with your kids can seize the opportunity to smooth your bad relationship by make friends with each other. Meanwhile, a good playing atmosphere will keep your kids in good mood and get on well with other children, which is an important skill in their whole life.
Secondly, more favors from different social groups help to upgrade the quality of outdoor playground equipment. We all know that safety comes first no matter what kinds of activities we are doing, so kids need more protection when playing, because they are not aware of self-protection, so if the quality failed to be assured, then there will be very serious and harmful effect on their safety. In this aspect, favors are urgently needed.
Last but not least, favors given by people play an important role in promising children's right in playing freely. It well received that most parent concentrate too much on children's education, which deprived their right to play and decide the style of their own life. This is not only unfair, but also deforms the natural development of their childhood, which will no doubt leads to teenage defiance and many other mental problems. Therefore, people, especially parents, are supposed to favor the project of the accommodation of more outdoor playgrounds in your neighborhood for kids to play.
All in all, since outdoor playgrounds can boost children's ability in exercising and contacting with others, why should we disapprove the trend of more outdoor playgrounds being built?